:: News In Brief
Inishowen urged to conserve water 06.06.21
High demand for water in Inishowen over the last number of days is putting severe pressure on reservoirs and may lead to night time restrictions on supply if demand doesn't ease.
Irish Water and Donegal County Council are appealing to residents, farmers, agricultural contractors, businesses and visitors to Inishowen to conserve water wherever possible to ensure a consistent supply for everyone.
There are some simple measures that the public can take including stopping the use of power washers at home, using a watering can rather than a hose in the garden, taking showers over baths and fixing any dripping taps where it is possible to do so. There is advice and guidance for homes, businesses and farms, including information on how much water you can save with simple measures on www.water.ie .
In order to improve the situation in Inishowen, owners of vacant and unused properties are being urged to turn off water to the property and to check for leaks around the building, especially around toilet cisterns.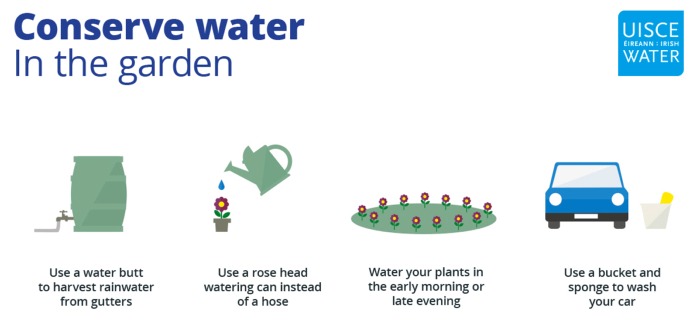 Pesticides detected in Buncrana drinking water 28.05.21
An exceedance for the pesticide MCPA has been detected in the public drinking water supply of Buncrana.
MCPA is an active substance present in many commonly used herbicide products used to control the growth of thistles, docks and rushes. These exceedances were detected as part of Irish Water's public water supply monitoring programme.
Buncrana water supply abstracts water from Lough Doo, which is vulnerable to runoff from the land. Irish Water is asking users of any pesticide products in the Lough Doo catchments to consider the vulnerability of the water supplies to contamination and the importance of this supply to the local homes and businesses in the community.
The levels of pesticides Irish Water are detecting from their monitoring programmes do not pose any immediate risk to health. For example the allowable limit for MCPA in drinking water is 7,000 times lower than what the World Health Organisation deems to be a lifetime health based limit.
Donegal ME4U awards 17.05.21
The Donegal Volunteer Centre have launched their annual ME4U awards to recognise and thank volunteers throughout the county who work to improve their local area and community.
The 2021 ME4U awards are open to all individuals and groups who are registered with the Donegal Volunteer Centre. Full details on how to register are at www.volunteerdonegal.ie . The closing date for entries is Thursday, 10th June 2021, at 5pm.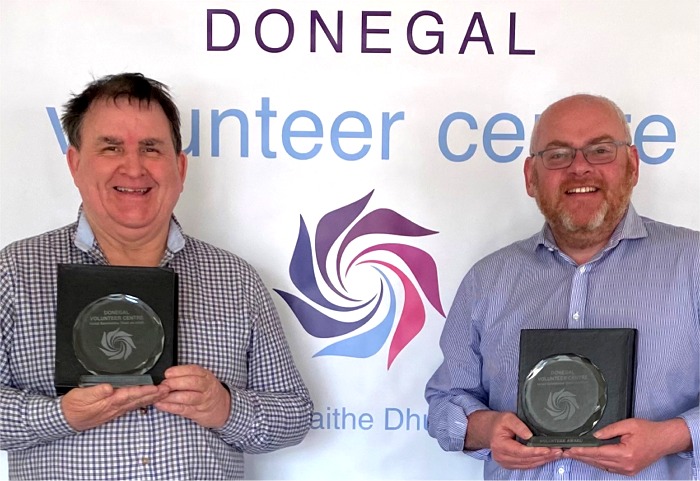 Eamonn Bonner and John Curran at the launch of the 2021 ME4U volunteer awards.
Gardaí issue 21K Covid-19 fines 03.05.21
An Garda Síochána has issued approximately 21,000 fines across a range of Covid-19 breaches. As of close of business on April 29, 2021 the following number of fines had been recorded:

• 14,749 fines of €100 for non-essential travel
• 57 fines of €2,000 for international travel to airports and ports
• 1,602 fines of €500 and €100 for non-essential journeys to airports/ports
• 886 fines of €500 for organising an event (i.e. house party)
• 3,045 fines of €150 for attending a house party
• 382 fines of €80 each for not wearing a face covering
• 421 fines of €100 for non-essential travel by persons not ordinarily resident in the State
Gardaí warn against PPS scam 13.04.21
Gardaí are warning the public to be aware of fraudulent phone calls and texts from scammers, impersonating an official of the Department of Social Protection, advising them that their PPS number has been compromised.
The person receiving the call is asked to verify their name, PPS number and bank account details. This personal data will then be used by the scammers for fraudulent purposes.

Gardaí would like to advise members of the public:
• Not to engage with the caller or return the call
• Never share personal information data with such callers or with people who make contact by text

An Garda Siochana or Department of Social Protection would never request bank account details or personal data in a cold call or text. If a member of the public believes they have received such a phone call or text, they are advised to contact their bank and the Department of Social Protection's helpline number on 1890 800 024.
They are also advised to take a note of the number and report the matter to their local Garda Station.

Muff - Derry greenway 12.04.21
Derry City and Strabane District Council's Planning Committee has approved plans to develop a cycling and walking route linking Muff to the Derry City. The proposed development will see an 8.5km route constructed, beginning on the quay trail at Penny Burn, connecting to Canning's Lane, Muff via the Culmore, Culmore Point and Coney Road. Once developed, the greenway will connect to the proposed Muff greenway, which Donegal County Council issued the works tender for on 31 March. Read previous story...