:: News In Brief
Free online film industry workshops 24.09.20
Following on from a very successful partnership established in 2019, Donegal Film Office in association with Cinemagic is hosting five FREE online film industry workshops for 16-25 year olds as part of Disappear Here Film Festival. The festival is embracing the current challenges of Covid 19, by going online and providing further learning opportunities to young people in Donegal interested in film. Cinemagic have convened a range of industry professionals that will provide excellent advice to those starting out. Book now!

Film Industry Workshops:
• Cinematography Masterclass with Aidan Gault – Night Lighting On A Budget
• Director Masterclass – So You Want To Be A Director with Michael Lennox
• Short Film Production - From Script To Screen with Sam Nutt
• Writing The Script with Ryan Rowe
• Spfx Make-Up with Connie Mcgrath

These events are FREE and will be delivered online. To participate please email: Laura@cinemagic.org.uk and list the event you wish to participate in.
Nominate your Inishowen 'Heritage Hero' 16.09.20
Do you know of a person or group who have worked tirelessly to protect and promote heritage in Inishowen? If you do, then The Heritage Council wants to hear from you. The public are invited to nominate who they feel deserves the 'Heritage Hero' award by completing the short nomination form on the Heritage Council website at www.heritagecouncil.ie before 12 noon on this Friday, September 18.

Community centre funding 16.09.20
Donegal County Council and the Donegal Local Community Development Committee (LCDC) are inviting applications from communities in Inishowen.
The Community Enhancement Programme for Community Centres and Community Buildings will provide grant funding towards enhancing the facilities available to local communities.
The fund for the 2020 programme in Donegal will be €234,073 and will be managed by LCDC. Two grants are available – a small scale capital grant of between €500 - €1,000 and a large capital grant of up to €5,000.
Completed applications must be lodged not later than 3pm on Thursday, 1st October 2020. For further details and application form visit www.donegalcoco.ie .
Virtual Sheep Week 15.09.20
Teagasc is hosting a Virtual Sheep Week, from 21st – 25th September, to provide all the latest research and advice available to sheep producers around Ireland. Full details of what is happening each day are available at www.teagasc.ie .
Daily updates showcasing the on-going research and advisory work in the areas of grassland, genetic improvement, flock health, hill sheep, as well as information on environmental and policy issues will be provided on multiple online platforms.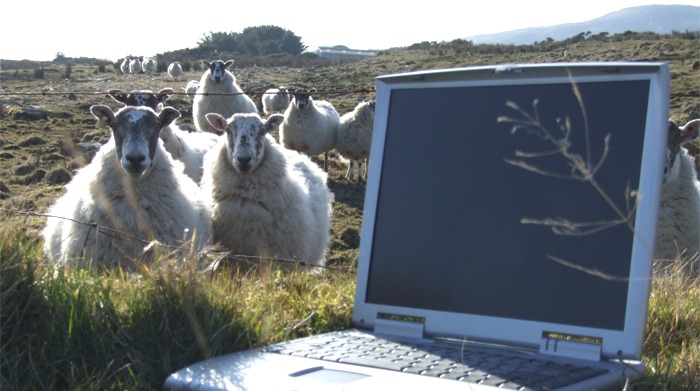 Each evening, from 7pm - 8pm, there will be a live webinar, Live@Athenry, focusing on the topic of the day. Visit Teagasc Facebook or www.teagasc.ie each evening to watch.

Each day is themed as follows:
• Monday – Grassland Management
• Tuesday – Genetics and Breeding
• Wednesday – Hill Sheep and Store Lambs
• Thursday - Flock Health
• Friday – Policy and Environment

Show the love for #LoveDonegal day 15.09.20
Tomorrow, Wednesday 16th September, will see the return of the #LoveDonegal day campaign, to once again showcase Donegal to a worldwide audience.
The initiative, which is co-ordinated by Donegal County Council, will build on the huge success of last year's campaign which reached an audience of 33 million people worldwide. Read more...

Restart Grant Plus for B&Bs 15.09.20
Up to €8million in grants is available for B&Bs through Fáilte Ireland.
Through the Restart Grant Plus for B&Bs, grants of €4,000 will be available to B&Bs that do not pay rates to their Local Authority. The grant allocation will assist B&B owners with the costs of re-opening and operating their businesses.

Applications for the Restart Grant Plus for B&Bs will be processed in two phases:
• Applications for B&Bs under the National Quality Assurance Framework (NQAF), through direct approval by Fáilte Ireland, will open from the 14th September until the 28th October 2020.
• Further details on the application process for B&Bs which are not approved under the National Quality Assurance Framework (NQAF) will be announced shortly.
For more information on the Restart Grant Plus for B&Bs, visit www.failteireland.ie .
Burnfoot Flood Relief Scheme 08.09.20
Preliminary ecological surveys to gather baseline data are required to inform scheme design and appraisal of flood defence options in Burnfoot. RPS Consulting Engineers have been appointed to carry out the environmental assessments and they will begin baseline surveys this month, September 2020. Further surveys will be conducted over the coming months.
The RPS survey teams may require access to private lands to complete habitat and biodiversity assessments.
Should you have any queries please contact the Flood Relief Schemes Unit in Donegal County Council through the contact centre on 074 91 53900 or email floodreliefschemes@donegalcoco.ie .
Autumn N: Let it grow, not flow 08.09.20
Teagasc are urging all farmers in Inishowen not to delay spreading the remainder of their slurry this autumn. The nitrogen (N) in slurry spread in September can have a higher impact on grass growth. As grass growth reduces from September onwards the capacity to take up nitrogen reduces steadily. Any nitrogen not used by grass is susceptible to leaching when autumn and winter rains come, particularly in free draining soils.

Good Practice this autumn
• Look at your grass covers and identify if your farm has a sufficient supply of grass
• Identify paddocks that are likely to respond to additional nitrogen (N) based on soil conditions, grass covers and soil fertility
• At this point no more than 20Kg N per hectare is justified. In situations where there are significant grass covers and moderate to low stocking rate, it's likely that no chemical fertiliser is required.
• Last date for spreading chemical N&P is midnight on the 14 September.
Reducing nitrate loss to water is an essential part of protecting our environment and farm income.
Donegal has new Lotto millionaire 25.08.20
Someone in Donegal won Saturday night's Lotto jackpot worth €2,482,715. The National Lottery is now encouraging all its players in the county to check their tickets to see if they have won this life changing prize.
The winning numbers, for Saturday 23rd August, are: 04, 05, 12, 15, 16, 31 and the bonus number is 23.
Dive survey inspections of Donegal piers 25.08.20
As part of Donegal County Council's maintenance and management of its piers & harbour facilities, dive survey inspections of pier pile supports will be undertaken during September 2020 at the following locations :
1. Magheraroarty
2. Greencastle
3. Teelin
4. Burtonport
5. Portmore, Malin Head
6. Bunbeg
7. Kerrykeel
8. Buncrana
9. Woodquarter
10. Ballyworiskey
11. Portsalon pier
12. Arranmore
13. Rathmullan
The work will be completed by Irish Sea Contractors and supervised by Donegal County Council.
Community Call Facility in Donegal 20.08.20
Government advice released on Tuesday, 18th August, has advised people over 70 and the medically vulnerable they may continue to meet up with people and go outside for exercise. However, if at all possible, they should avoid public transport, only shop during designated hours, maintain a two meter distance from others and wash their hands regularly.
In conjunction with this government advice the Donegal County Council continues to operate the Community Call Facility on 1800 928982 for those seeking assistance. Further information is also available through the council's website at www.donegalcoco.ie .
Burst water main in Fahan 11.08.20
Irish Water and Donegal County Council wish to advise customers in Fahan, Burnfoot, Bridgend, Burt, Killea, Newtowncunningham and surrounding areas that their water supply has been impacted as a result of a burst water main.
It is expected that the repairs will be completed by 5pm but some customers may not receive a full water supply for a further two to three hours while reservoirs refill and water returns to the network.
The Irish Water customer care helpline is open 24/7 on 1850 278 278. For updates please see the water supply and services section of their website.
Expressway 32 Letterkenny / Dublin bus service 07.08.20
From Sunday, 9th August, Bus Éireann will run an additional Expressway 32 service, seven days a week between Letterkenny and Dublin, serving Lifford and Monaghan. The coach will depart Letterkenny at 5.45pm and depart Dublin at 10.45pm. Online booking is available at www.expressway.ie and a number of seats are available on a 'walk up' basis for people unable to book online.
Lough Foyle Ferry Service 15.07.20
The Greencastle to Magilligan ferry service commenced on Friday 3rd July and will run until at least Wednesday 30th September 2020. The daily service will start from Greencastle at 9am with a continuous shuttle service until the last sailing departing Magilligan at 8.15pm. For more info visit www.loughfoyleferry.com .