:: News In Brief
Gardaí issue 21K Covid-19 fines 03.05.21
An Garda Síochána has issued approximately 21,000 fines across a range of Covid-19 breaches. As of close of business on April 29, 2021 the following number of fines had been recorded:

• 14,749 fines of €100 for non-essential travel
• 57 fines of €2,000 for international travel to airports and ports
• 1,602 fines of €500 and €100 for non-essential journeys to airports/ports
• 886 fines of €500 for organising an event (i.e. house party)
• 3,045 fines of €150 for attending a house party
• 382 fines of €80 each for not wearing a face covering
• 421 fines of €100 for non-essential travel by persons not ordinarily resident in the State
Gardaí warn against PPS scam 13.04.21
Gardaí are warning the public to be aware of fraudulent phone calls and texts from scammers, impersonating an official of the Department of Social Protection, advising them that their PPS number has been compromised.
The person receiving the call is asked to verify their name, PPS number and bank account details. This personal data will then be used by the scammers for fraudulent purposes.

Gardaí would like to advise members of the public:
• Not to engage with the caller or return the call
• Never share personal information data with such callers or with people who make contact by text

An Garda Siochana or Department of Social Protection would never request bank account details or personal data in a cold call or text. If a member of the public believes they have received such a phone call or text, they are advised to contact their bank and the Department of Social Protection's helpline number on 1890 800 024.
They are also advised to take a note of the number and report the matter to their local Garda Station.

Muff - Derry greenway 12.04.21
Derry City and Strabane District Council's Planning Committee has approved plans to develop a cycling and walking route linking Muff to the Derry City. The proposed development will see an 8.5km route constructed, beginning on the quay trail at Penny Burn, connecting to Canning's Lane, Muff via the Culmore, Culmore Point and Coney Road. Once developed, the greenway will connect to the proposed Muff greenway, which Donegal County Council issued the works tender for on 31 March. Read previous story...

Bus Éireann issues travel guidance 12.04.21
With changes to travel restrictions and the full resumption of education from Monday 12 April, Bus Éireann, has advised passengers to plan their essential journeys and to be aware of the continuing 25% capacity limit on all public transport.

• For city and county services, Bus Éireann is operating to a normal schedule. With the resumption of all second-level education on Monday, some city and town services may see an increase in demand on morning and afternoon services.
• For intercity travel on Expressway services, guaranteed seats can now be purchased online at www.expressway.ie . This guaranteed booking facility is available to people with free travel entitlements.
• With the full reopening of schools, the school transport system will be operating as usual with substantially all post-primary services now at 50% capacity.

Allen Parker, Chief Customer Officer, Bus Éireann said: "Public transport remains at 25% capacity and therefore should only be used for essential journeys. Generally, buses and coaches are currently limited to carrying between 10 and 20 passengers, dependent on vehicle size."
"We thank customers for their patience and understanding and encourage people to monitor the @buseireann and @ExpresswayIRE Twitter feeds for service updates," Allen concluded.
Thatch Repair Grant Scheme opens 12.03.21
Donegal County Council's Thatch Repair Grant Scheme has opened for applications. Now in its third year, the scheme assists the owners and occupiers of thatched dwellings and businesses with their maintenance and repair. The grant scheme provides advice to owners on the conservation of thatched roofs, allocates funding for small-scale thatch repairs and helps homeowners carry out necessary repairs under conservation supervision. The scheme is open for applications until 12 noon on Monday, April 12.
Application forms for the Thatch Repair Grants Scheme are available online at www.donegalcoco.ie or by contacting Joseph Gallagher, Heritage Officer or Collette Beattie, Conservation Officer at 074 91 53900 or by email at thatch@donegalcoco.ie .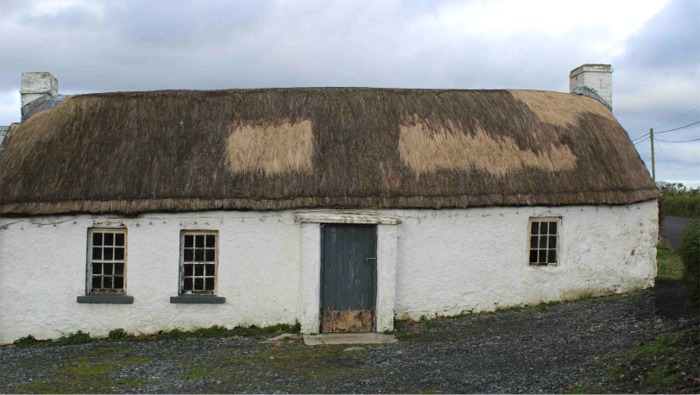 Rope-thatched cottage in Ballykeeny, Inishowen was one of the properties that benefited under the Thatch Repair Grant Scheme in 2019. The scheme allows for small-scale thatch repairs as evidenced by the 'patch' repairs shown.

Donegal woman wins €30k 12.03.21
A lucky woman in Donegal has claimed €30,000 on a Diamond Bingo Doubler scratch card. The overjoyed woman, who wishes to remain anonymous, purchased her €3 winning ticket at McFaddens Service Station in Letterkenny. She 'couldn't believe her eyes' as she scratched her way to the top prize. She said: "I was down to the second last number and I could see that I had four corners in the last box. I thought I had won the €25 but then noticed the line across and thought that looked unusual. I was sitting in my kitchen with my family so it wasn't long before we were all checking the ticket."

Covid vaccination scam awareness 09.03.21
An Garda Síochána, the HSE and The Department of Health would like to advise members of the public to be aware of potential scams relating to the Covid-19 vaccine.
An Garda Síochána is aware of members of the public having received fraudulent text messages and calls regarding Covid vaccinations.
A number of people have recently received phone calls or text messages in which they are offered vaccinations. However, the callers are then providing fraudulent vaccination dates and looking to extract sensitive personal details. The details requested include, the person's name, PPS number, date of birth and address.
Text messages have also made requests for people to confirm private information such as PPS number, date of birth and address. The HSE will never text seeking such information.