:: News In Brief
Have you worked in Scotland? 20.09.23




Tunnel workers taking a break from their work on one of the hydro-electric schemes in Scotland in the mid-twentieth century. Photo courtesy of SSE Renewables.

Have you or a family member ever worked in Scotland? Do you have photographs or memories from your time there that you would be willing to share? Donegal County Council is working on a major exhibition to document the working experiences of Donegal people in Scotland.

"There are few families in County Donegal that have not been affected by emigration or participated in seasonal migration" said Joseph Gallagher, County Donegal Heritage Officer. "We want to hear from Donegal people who worked in Scotland especially those who have a story to tell, photographs to share or objects to lend that could form part of this exhibition".

If you are willing to share your story, contact the Donegal Heritage Office on 074 91 72576 or by email heritage@donegalcoco.ie . If you have photographs of Donegal men or women at work in Scotland, they can be scanned free-of-charge at the County Museum in Letterkenny or the libraries in Buncrana and Moville.
Love Donegal Day 2023 13.09.23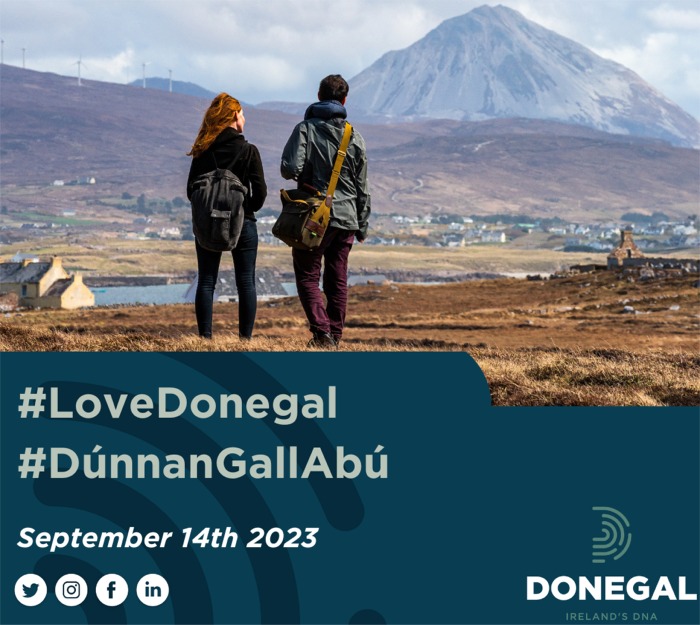 This years #LoveDonegal day will take place on Thursday, 14th September and is the day when anyone and everyone who has a connection to and an affinity for Donegal will take to their socials to proclaim their love for the county.

Taking part is simple. All you have to do is use the #LoveDonegal or #DúnnanGallAbú in your social media posts (across Twitter and Instagram) on Thursday the 14th September.

Tweets and posts can include:
• Visiting, travelling and exploring Donegal.
• The people of Donegal.
• The landscape, coastline, islands, landmarks and scenery of Donegal.
• Music, Arts, Sport, Marine, Culture, Food.
• Local Businesses based in Donegal, working remotely and the Working Holiday Campaign.
• The Gaeltacht region and the Irish language.

More information on how to get involved visit: https://donegal.ie/lovedonegal .
Man dies in Bridgend crash 30.08.23

Gardaí attended the scene of a fatal road traffic collision that occurred at Carrowreagh, Bridgend yesterday morning, Tuesday 29th August 2023.

The single vehicle collision involving a car occurred between 8:30am and 9am. The male driver of the car (aged in his 40's) was pronounced deceased at the scene. His body has been removed to the mortuary at Letterkenny University Hospital.

The road in Carrowreagh was closed while Garda Forensic Collision Investigators conducted a technical examination of the scene, it has since reopened.

Gardaí are appealing to anyone who may have witnessed this collision to contact them.
Any road users who may have camera footage (including dash-cam), and who were travelling in the Bridgend to Killea area between 8am and 9.30am on Tuesday 29th August, are asked to make this footage available to Gardaí.

Anyone with any information is asked to contact Buncrana Garda Station on 074 932 0540.
Donegal Development Plan 14.08.23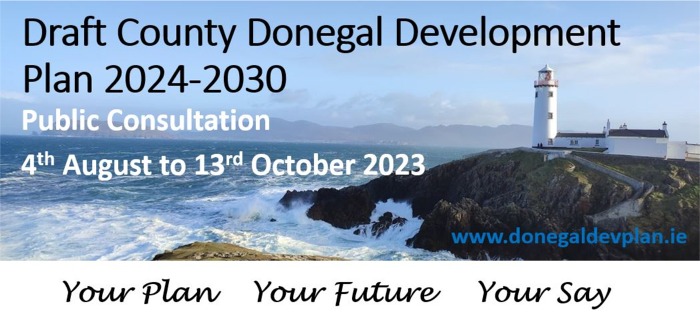 DONEGAL County Council has published the Draft County Donegal Development Plan 2024-2030. A public consultation on the Draft Plan has commenced and runs until Friday 13th of October 2023.

The Draft Plan sets out an overall strategy for the proper planning and sustainable development of Donegal, including background text and development objectives, policies, and land use zonings. It is accompanied by associated environmental reports.

The Draft Plan will guide future planning and public investment decisions across a wide range of development areas including housing, economic development, climate change, transport infrastructure, renewable energy, and the management of our natural and built heritage. Specifically, it also includes area plans for Buncrana with associated development objectives, policies and land use zonings.

The public can have their say on the Draft Plan and all submissions will be considered to inform the next stage of the process. For more information please visit www.donegaldevplan.ie .
Flood scheme approved for Donegal 01.08.23

Donegal County Council has been advised that the Cabinet has approved the Emergency
Humanitarian Flood Scheme to aid eligible businesses and community bodies impacted by the
recent flooding on Saturday 22nd of July 2023.

This scheme provides an emergency humanitarian support contribution towards the costs of
returning business premises to their pre-flooding condition including the replacement of flooring,
fixtures, fittings and damaged stock.

The scheme, which will be administered by the Irish Red Cross. For more details on the scheme visit www.redcross.ie .