:: News In Brief
Stay safe and be seen 23.10.20
As the clocks go back on Sunday at 2am, with longer periods of darkness in the mornings and evenings, alongside worsening weather conditions, the Donegal Road Safety Working Group is urging all road users and pedestrians to stay safe and be seen.
Brian O'Donnell, Road Safety Officer said: "Already this year nine people have lost their lives and many more have been seriously injured in road traffic collisions in Donegal.
We all need to play our part in road safety, especially as we head into darker evenings. Road users must accept their responsibility to think about their actions on the roads and modify their driving to cope with weather conditions. Similarly, pedestrians and cyclists need to see and be seen. We would appeal to everyone to stay safe and look out for each other."
Artlink receive €106k grant 19.10.20
Artlink at Fort Dunree, Buncrana are over the moon to be awarded an arts grant of €106,000 from Arts Council of Ireland to deliver a programme of residencies, exhanges, exhibitions, artist development opportunities, workshops, community engagement and community garden events in 2021.
In response to the restrictions imposed by the global pandemic, Artlink adapted their programme and created a new online platform including, artist profile films and a virtual gallery space. You can enjoy this and more at www.artlinkonline.ie .





Buy Donegal Weekend 19.10.20
#BuyDonegalWeekend is an exciting new campaign which will showcase the best of business in Donegal. Taking place from 6th to 8th November 2020, it provides an opportunity for businesses across the county to highlight their fantastic range of products and services and most importantly encourage people to buy them. For more information visit www.buydonegal.ie .

Small Business Grant 19.10.20
As part of the ongoing supports available to commercial business during their difficult trading period in 2020 Donegal County Council has decided to extend the deadline for qualification under The Small Business Grant for commercial rates from 31st October 2020 to 30th November 2020, to allow businesses extra time to discharge their rates liability for 2020.
For further detail please visit www.donegalcoco.ie or call 074 91 53900.

Bealtaine At Home 19.10.20
This has been a tough year. We could all do with a boost of fun and creativity to lift our spirits as the winter draws in and Covid-19 continues to haunt the world.
To help us through this dreary October, Age & Opportunity, the national organisation working to improve the quality of life of people aged over 50, have just announced a wonderful creative programme for people to enjoy online in their homes - Bealtaine At Home.
The events run from Tuesday 20th October until Saturday 31st October. The full list of events is available on the Bealtaine Festival website www.bealtaine.ie .

Moville Principal praises staff 12.10.20
Moville Community College Principal, Anthony Doogan released the following statement praising the work of school staff: "Teachers are rightly applauded for their work in the reopening of schools. We should also appreciate the work of caretakers, cleaners, and administrative staff for their work in preparing schools for reopening and their continued efforts in keeping schools open. Principals and Deputy Principals are acutely aware of their worth."

Donegal Artists' Bursary Scheme 12.10.20
Donegal County Council Artists' Bursary Scheme welcomes applications from individual professional artists of all disciplines for assistance towards arts projects which are on-going or proposed. The scheme is designed to support individual artists at any stage of their career to sustain and further their practice.
Scheme guidelines and application forms are now available to download from www.donegalcoco.ie or by emailing artistsbursaries@donegalcoco.ie .
The closing date for the receipt of completed applications is 4.30pm on Friday, October 23, 2020.
Enable Ireland art sale 12.10.20
Enable Ireland are holding an art sale to raise funds. The theme is the Wild Atlantic Coast and they are appealing to artists based along the west coast to donate art pieces inspired by the Atlantic Way.
Enable Ireland provides disability services to over 9,000 children and adults across Ireland. Their fundraising income has been severely impacted due to Covid 19, and the art sale will help to raise urgent funds to support their vital disability services.
The art sale will take place online on Monday 16th November 2020. Full details for the sale will be published on www.enableireland.ie . If you are an artist please contact Sean in Enable Ireland's Fundraising Team on 087 760 9768, or via email at sscally@enableireland.ie .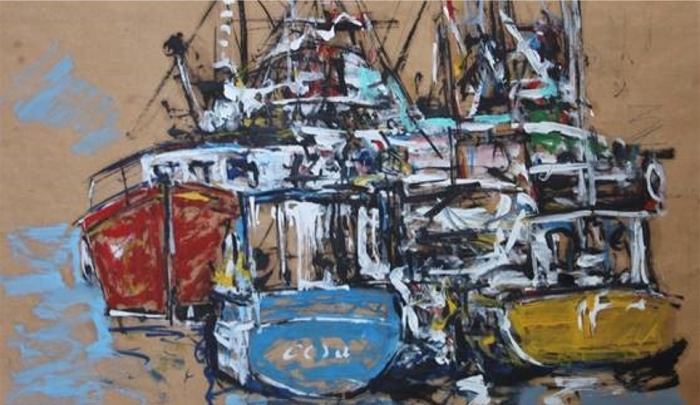 Teagasc launches forestry photo competition 05.10.20
The Teagasc Forestry Development Department is delighted to launch a forest photo competition which will run over October and November, 2020.
'Celebrating Our Forests' will highlight some of the many benefits provided by our forests. It provides a great opportunity for budding (non-professional) photographers to get snapping right away and be in with a chance to win exciting prizes, with the overall winning prize valued at €1,000.
Individual participants may submit a maximum of one photo separately for each of the competition themes. Submission is by email and should include a caption and brief description to the dedicated email address forestphotos@teagasc.ie .
Participants are asked to log onto the forestry section of the Teagasc website www.teagasc.ie and familiarise themselves with the competition terms and conditions as well as the entry requirements in advance of photograph submission.