:: News In Brief
Love Donegal Day 27.07.21
This years' #LoveDonegal day will take place on Wednesday the 18th August. This is the third year of the campaign which aims to promote Donegal to as many people as we can across the globe and tell them why Donegal is the amazing place to live, work, study, explore and invest in!
Taking part is simple. All you have to do is use the #LoveDonegal or #DúnnanGallAbú in your social media posts (across twitter and Instagram) on Wednesday the 18th August.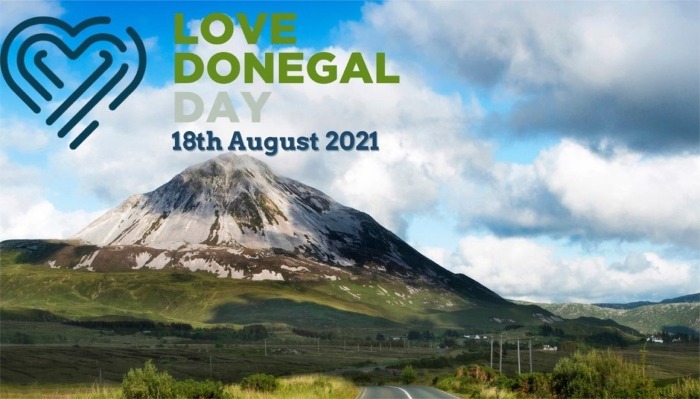 Fatal RTC, Letterkenny 25.07.21
Gardaí from Letterkenny attended the scene of a serious road traffic collision on the N14 between Dry Arch roundabout and the Port Road roundabout this evening Sunday 25th July, 2021 at approximately 5pm.
A motorcyclist, man (late 40s), was seriously injured while driving in traffic. His motorcycle collided with a jeep and a tractor. He was removed from the scene and taken to University Hospital Letterkenny in a critical condition, where he later passed away. The male driver of the jeep was uninjured and the driver of the tractor was taken to hospital to receive medical attention. His injuries are non-life threatening.
Gardaí are appealing to anyone who may have witnessed this collision to come forward. Any road users who were travelling on the N14 this evening between the Dry Arch and Port Road roundabouts and who may have camera footage (including dash cam) is asked to make it available to Gardaí.
Anyone with any information is asked to contact Letterkenny Garda Station on 074 91 67100, the Garda Confidential Line on 1800 666 111 or any Garda station.

Beware of 'smishing' scam 22.07.21
An Garda Síochána at the Garda National Economic Crime Bureau (GNECB) are warning the public of a recent smishing scam where persons are receiving text messages purporting to be from Permanent TSB advising of 'unusual activity' or a 'suspicious log-in attempt' on their account.
Once the person clicks on the link they will be brought to a cloned website where the fraudsters will seek their pins, passcodes and other personal information from them. The information sought is far and beyond what a bank would ever seek.
The fraudsters wants your personal data so they can steal money from your bank account or purport to be you when contacting banks.
GNECB would like to warn the public to be wary of such text messages and if in any doubt of the authenticity of the text, contact their bank on the numbers they usually use. Do not use a number supplied by these texts.
Be aware, there are other 'smishing' texts being received and these can purport to be from service providers, revenue, banks and/or delivery businesses. Some can fit into the threads of previously received genuine texts which adds an air of authenticity to them.
Inishowen urged to conserve water 14.07.21
High demand for water in Inishowen is continuing to put severe pressure on water supplies as warm weather continues, visitors to towns and villages increase, Covid-19 restrictions are relaxing and the hospitality sector is beginning to re-open. High water demand in Clonmany, Carndonagh, Malin, Malin Head and Gleneely is resulting in reduced reservoir levels. Irish Water advises that this continued increase in water demand may lead to night time restrictions on supply if demand doesn't ease as treatment plants operate at maximum capacity.

Irish Water and Donegal County Council are again appealing to residents, farmers, agricultural contractors, businesses and visitors to conserve water wherever possible to ensure a consistent supply for everyone.

There are some simple measures that the public can take including stopping the use of power washers at home, using a watering can rather than a hose in the garden, taking showers over baths and fixing any dripping taps where it is possible to do so. There is advice and guidance for homes, businesses and farms, including information on how much water you can save with simple measures on www.water.ie .

In order to improve the situation in Inishowen, owners of vacant and unused properties are being urged to turn off water to the property and to check for leaks around the building, especially around toilet cisterns.
Here comes the sun 08.07.21
Donegal's intergenerational choir, Ceol Le Chéile, was delighted to launch its latest Zoom video, 'Here comes the sun'. Ceol le Chéile was established in February 2018 with members aged from 7 to 90+ years old from all over the county, including Inishowen.
Covid19 and the lockdown in March 2020 prevented the choir from continuing with weekly practices at LYIT with Choir Director, Ms Veronica McCarron. However the choir members were anxious to continue with rehearsals, so weekly practice was taken online, via Zoom meetings.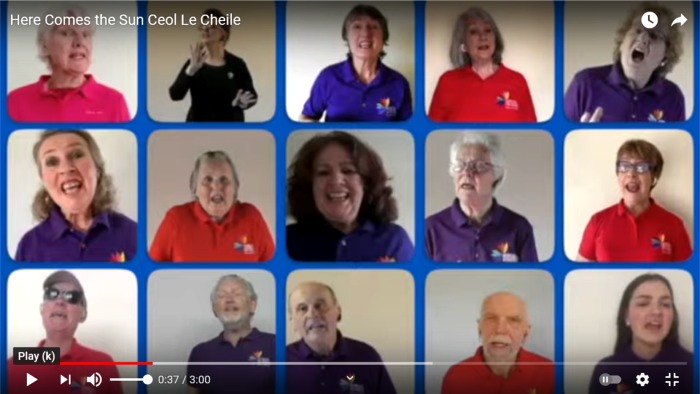 Watch 'Here comes the sun' on YouTube at www.youtube.com .
Carn Vet launches new online services 07.07.21
Carn Vet Clinic has launched a new website and app services to improve online support for pet owners. "The pandemic forced everyone to review what they offer online," says Fidelma Tonry, owner of the Carndonagh clinic. "So, we turned a challenge into an opportunity to innovate and create new ways for pet owners to access our services." Find out more on their website at www.carnvet.ie .
The ii Inishowen digital innovation hub 01.07.21
Construction work to begin shortly on new digital innovation hub for Inishowen based in Buncrana.
The ii Inishowen innovation will incorporate renovation of the existing building namely the Buncrana Town Centre Council with a modern extension to provide space for over 60 people with first class facilities and support services.
The joint funding for this development has been provided by Enterprise Ireland and Donegal County Council with total investment of over €2million in the project, which will extend across Inishowen peninsula and contribute towards the development of the region throughout Donegal and the Northwest.
It is expected that the ii Inishowen innovation will open in autumn 2022, in the meantime interim premises will be made available in Buncrana during the construction works for ii clients to avail of space.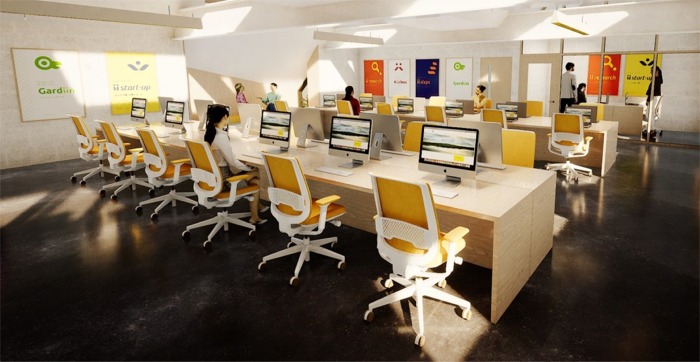 VR image of the ii Inishowen hub.
Buncrana flood relief scheme 22.06.21
Preliminary ecological and infrastructure surveys are required to inform the development and design of flood relief options in Buncrana. Consultants Byrne Looby have been appointed by the council to undertake engineering and environmental services for the flood relief scheme. They will begin with a baseline survey this month.

Should you have any queries please contact the Flood Relief Schemes Unit in Donegal County Council on 074 91 53900 or email floodreliefschemes@donegalcoco.ie . An online public consultation period will also commence in September 2021.
Decade of Centenaries 16.06.21
Donegal Library Service have announced their first ever digital lecture series on the theme of the Decade of Centenaries. The lecture series which runs from June to September 2021 will be free to everyone who registers on Eventbrite or contacts the Central Library, Letterkenny.
These lectures are free of charge and can be viewed online at Donegal County Council YouTube channel. The schedule for all the events can be found on the 'What's On' calendar at www.donegallibrary.ie .