:: News In Brief
Buy Donegal December Campaign 03.12.20
With the easing of Government restrictions, Cathaoirleach of Donegal County Council, Cllr Rena Donaghey is encouraging shoppers across Donegal to shop local as part of a new 'Buy Donegal December Campaign'.
The people of Donegal near and far can help to continue to support the campaign by visiting a Donegal business or shopping safely online through www.buydonegal.com .
Businesses can still register on the website, there is no fee involved and registration is easy by completing a Sign Up Form .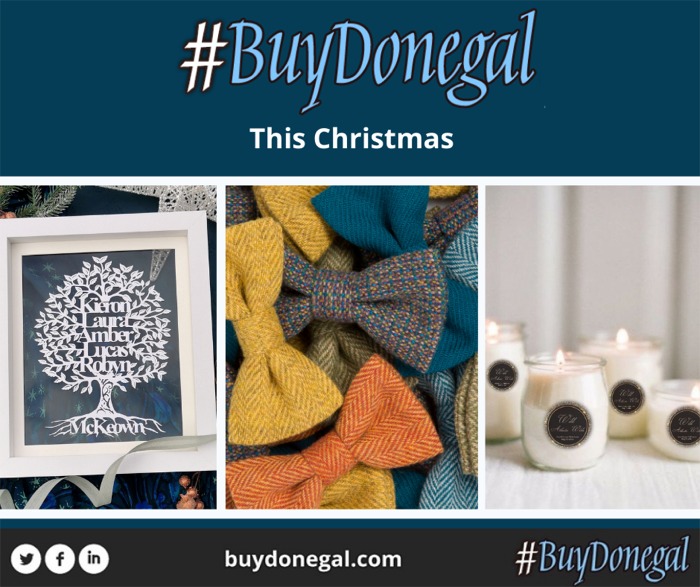 High visibility Garda operation 03.12.20
Following the government's announcement on the country's move to Level 3 on the 1st December 2020, An Garda Síochána is adapting its ongoing policing operation in support of the prevailing public health measures. The focus of the operation reflects the guidelines and regulations in place under the Government's Living with COVID-19 plan .

Brexit Customs Briefing webinar 03.12.20
Enterprise Ireland will host a webinar on Wednesday, 9th December, ''Brexit Customs Briefing: Critical steps to get ready for new customs rules from January 1st, 2021', tailored for businesses that still need to prepare themselves for Brexit.
As the Brexit transition period comes to an end on 31 December 2020, Irish businesses involved in trade with the UK will need to operate in a new business environment.
To find out more information and to register for the Webinar Click Here .



North West Simon Community 03.12.20
Homelessness charity North West Simon Community has issued a fundraising appeal ahead of Christmas in a bid to safeguard their Early Intervention and Prevention of Homelessness and Housing Services. The principal objective of the service is to help households at risk of homelessness to avoid the need to enter emergency accommodation, and the disruption this brings to their lives.
If you would like to support the charity this Christmas, please visit www.northwestsimon.ie or call 071 9147522.
Armed robbery at Clonmany Post Office 26.11.20
A man, in his early 60s, has been arrested by Gardaí in connection with the attempted armed robbery of Clonmany Post Office, two weeks ago. Shortly after 5pm on Wednesday, November 11, 2020 a man entered the post office, produced what was believed to be a handgun and demanded money.
A post office worker retreated to a back room and raised the alarm. The man left the scene and nothing was stolen.
Gardaí responded immediately to the activation of the panic alarm.
Yesterday, Tuesday November 24, at 5.30pm a man was arrested at an Operation Fanacht checkpoint in Bridgend, in connection with this incident. He is currently detained at Buncrana Garda Station. An Garda Síochána has been working closely with the PSNI in relation to this incident.
Irish Water replace watermains in Bridgend 12.11.20
Irish Water, working in partnership with Donegal County Council, is replacing approximately 350 metres of problematic, old watermains in Bunnymayne, Bridgend that were prone to frequent bursts and leakage which caused water supply disruptions for customers in the area. The mains are being replaced with new high density polyethylene pipes.
The mains that are being replaced are on the L2031 Bunnymayne Road. The works commenced on Monday, November 9, and will be completed by December. Once completed customers in this area will enjoy an improved water supply with less disruption. Farran's Construction Ltd have been contracted to carry out the work on behalf of Irish Water.

Be Winter Ready 12.11.20
The Government has now launched the 10th annual 'Be Winter Ready' campaign. 'Be Winter Ready' which is now in its tenth year, is designed to raise the public's awareness about the particular challenges that winter season can bring about. The main message of the campaign remains a simple one, "be prepared, stay safe and know where to find help if you need it".
The 'Be Winter Ready' campaign provides crucial information for the public to ensure preparedness for the winter months. People are asked to visit www.winterready.ie or to follow the conversation on Facebook or Twitter at #BeWinterReady for more information.
Covid cases fall in Inishowen 06.11.20
The number of Covid cases has fallen in Inishowen, according to the latest stats on Ireland's Covid-19 Data Hub . The figures, released yesterday, show that in the fourteen days up to Monday, 2nd of November, the rate of infection has decreased in North Inishowen to 35 cases and in South Inishowen the number of cases has fallen to 133. Overall the incidence of confirmed Covid cases in Inishowen has fallen by 9 from 177 for the previous 14 day period to 168 cases for the latest period.
Ireland is in Level Five restriction measures and will continue under these guidelines until Tuesday 1st of December.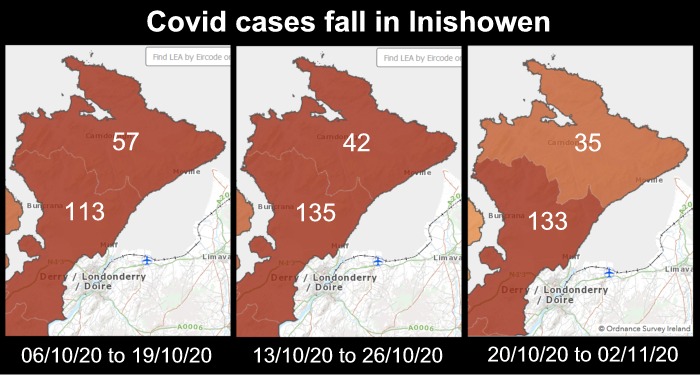 Artlink receive €106k grant 19.10.20
Artlink at Fort Dunree, Buncrana are over the moon to be awarded an arts grant of €106,000 from Arts Council of Ireland to deliver a programme of residencies, exchanges, exhibitions, artist development opportunities, workshops, community engagement and community garden events in 2021.
In response to the restrictions imposed by the global pandemic, Artlink adapted their programme and created a new online platform including, artist profile films and a virtual gallery space. You can enjoy this and more at www.artlinkonline.ie .