Your local site for club notes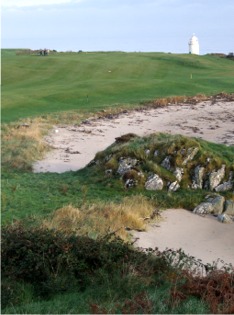 Greencastle Golf Club Contact Details
If you wish to contact us regarding the club notes, please do so...
Email: clubs@inishowennews.com
:: Greencastle Golf Club
24.04.17
Forthcoming Fixtures
Thursday 27 April - Ladies Mary Bonner Cup Stableford
Saturday 29 April - Ladies Donegal Shield 8am - 4.30pm
Sunday 30 April - Gents Open Singles Stableford
Monday 01 May - L&G Open Singles Stableford
Competition Results
20 April 2017 - Ladies Manor House Cup Stroke
1st Claire O'Grady 72 (BOT)
2nd Margaret O'Kane 72
3rd Isobel McCafferty
Gross Lucia Mullen.
Nineteen seemed to be the best handicap to be on at Greencastle over the weekend as the winners on both Saturday and Sunday proved. On Saturday, in the Hunter Apparel Solutions Open, Michael McLaughlin belied his high handicap by birdieing the third, fourth and fifth holes to set up a front nine of 24 points and record his maiden victory. Hugh Casey took the runner-up prize on break-of tie from Paul McCole. Helena Doherty just pipped Pauline Casey to win the Ladies event. Full results were:

Hunter Apparel Solutions L & G Open Singles S/F, Saturday 22nd April
1st Michael McLaughlin (19) 41;
2nd Hugh Casey (12) 39;
3rd Paul McCole (7) 39;
Gross Jason McLaughlin (5) 33;
Front 9 Terry Houston (18);
Back 9 Richard McKee (14) 20;
Ladies 1st Helena Doherty;
Ladies 2nd Pauline Casey.

Two nineteen handicappers battled it out for the honours in the Ferguson Fashions Confined Stroke event on Sunday last. And, again, birdies were the order of the day for the eventual winner, Alan Orr, who took just 3 shots to complete the first hole and only 2 shots at Bovairds. Stephen McNiece took the runner-up prize for the second weekend in a row, losing out by a single shot. Full results were as follows:

Ferguson Fashions Gents Confined Stroke, Sunday 23rd April
1st Alan Orr (19) 63;
2nd Stephen McNiece (19) 64;
3rd Atholl Stewart (23) 65 BoT;
Gross Paul Wallace (4) 70;
4th Brian Doherty (14) 65;
1st 9 Martin McGeoghan (16) 28;
2nd 9 Kevin Thompson (9) 30.5.

The presentation of prizes for both competitions, along with the Greencastle Masters event, was held on Sunday evening and the club would like to thank Hunter Apparel Solutions, Ferguson Fashions and the club's trustees for their generous and ongoing sponsorship.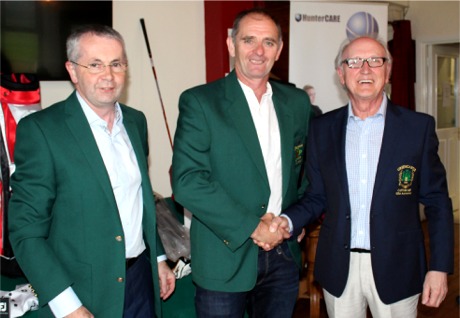 Winner of the Green Jacket Charlie Kelly with last year's winner Paul Ferguson and Captain Brian McRory.
Next weekend Greencastle hosts the Ladies Donegal Shield event on Saturday with the tee reserved until 4.30pm. A Gents Open Stableford will be held on Sunday 30th April and a May Day Ladies and Gents Open Stableford takes place on Monday 1st May.