Your local site for club notes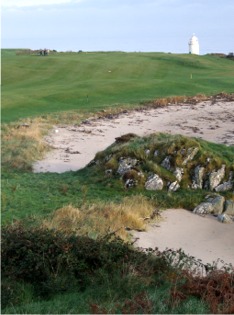 Greencastle Golf Club Contact Details
If you wish to contact us regarding the club notes, please do so...
Email: clubs@inishowennews.com
:: Greencastle Golf Club
15.08.17
Forthcoming Fixtures
Thursday 17 August 2017 - Nancy Mowbrays Cup 4Ball Betterball
Friday 18 August 2017 - Laois Tourism Open 4Ball Betterball
Saturday 19 August 2017 - Daniel Doherty Bakery L&G Open
Sunday 20 August 2017 - Port A Carraig Cup Open S/F

Competition Results
North West's Sean Kelly blitzed the field to win the Mervyn Morris Cup at Greencastle on Saturday last. Sean's 45 points left everyone else trailing despite Paul Wallace's 2 under par round and Jason McLaughlin's level par score. In the Ladies section two of the Gillespie girls took the main honours while Anne Heard had a hole in one at the par 3 third. Full results were:

Saturday 12 August - Mervyn Morris Cup L&G Open Singles Stableford
1st Sean Kelly, North West (13) 45;
2nd Paul Wallace (4) 42;
3rd Jason McLaughlin (4) 40;
Gross Willie Havlin (6) 32;
1st 9 Mervyn Baird (15) 22;
2nd 9 Danny McCartney (14) 22;
1st Lady Teresa Ross (8) 40;
2nd Helena Doherty (19) 36;
Hole-in-One: Anne Heard at Tardrum.

There was another great day of scoring on Sunday in the RNLI Open with multiple returns of 43 points. Tony Gillespie came out on top after all the breaks of tie had been completed. Not wishing to be left out, another two of the Gillespie girls took the honours in the Ladies section. Full results were:

Sunday 13 August - RNLI L&G Open Singles Stableford
1st Tony Gillespie (14) 43;
2nd Seamus Doherty (18) 43;
1st Lady Isobel McCafferty (19) 36;
2nd Margaret Canavan (19) 35.

Forthcoming events include the Laois Tourism Open Fourball on Friday, the Daniel Doherty Bakery L&G Open Singles Stableford on Saturday 19 August and the Port-a-Carraig Cup Gents Open Singles on Sunday 20 August.

The Final Day of the Children's Tuesday League will take place on Tuesday 22 August when all the prizes for the Summer season will be distributed. Tuesday is also the final day of the Summer Scramble and everyone is welcome with first draws at 6pm.

Greencastle celebrates its 125th Anniversary next week beginning on Friday 25th with the Generation Foursomes followed on Saturday 26th and Sunday 27th with two days of Open Singles competitions for Ladies and Gents. A Gala Dinner will be held in the clubhouse on Saturday 26th and there are still some tickets available.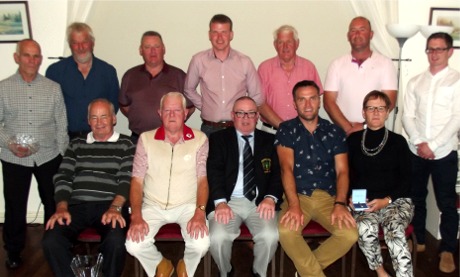 Mr President John Lynch, front centre, with the prize winners on his President's Day.