Your local site for club notes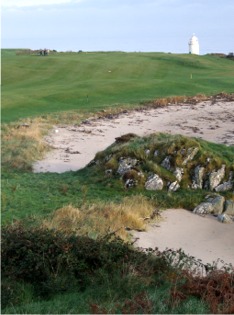 Greencastle Golf Club Contact Details
If you wish to contact us regarding the club notes, please do so...
Email: clubs@inishowennews.com
:: Greencastle Golf Club
17.10.17
Forthcoming Fixtures
Saturday 21 October 2017 - Ladies v Gents
Saturday 21 October 2017 - Ladies & Gents Open Singles Stableford
Sunday 22 October 2017 - Gents Open Singles Stableford

Competition Results
Blanking the first hole is never the recommended start to a round of golf, but John Keyes made a brilliant recovery to win his first competition of the year at Greencastle on Saturday last. Johnís three over par back nine gave him a break of tie victory over serial prize-winner Stephen McNeice, both scoring 42 points. Tom Houston continues his quest for a single figure handicap with 40 points for third place. Full results were as follows:

Saturday 14th October - Gents Open Singles Stableford
1st John Keyes (18) 42;
2nd Stephen McNeice (18) 42;
3rd Tom Houston (14) 40;
Gross Eddie McIntyre (7) 30;
1st 9 Barry Nicholas (13) 22;
2nd 9 Mike Bonner (21) 23.

Fourball Betterball was the popular format for Sundayís competition at Greencastle and a big turnout enjoyed typically windy links conditions. Kevin Lake and Liam McDermott dovetailed perfectly to record a two-shot victory over the field. Golfer of the Year Kevin and former Derry City football favourite Liam shot a gross 1 under par back nine to seal their win. Full results were:

Sunday 15th October - Gents Open Fourball Betterball
1st Kevin Lake (12) and Liam McDermott (16) 46;
2nd Cathal Langan (12) and George Hegarty (22) 44;
3rd Shaun Kelly (11) and Eamon Kelly (21) 44;
1st 9 Mark Tracey (14) and Paddy Rigney (24) 22;
2nd 9 Ray Kelly (19) and Charlie McHenry (24) 24.

Next weekend heralds the season finale at Greencastle and new franchisee Caroline gets the programme of events under way with an open invitation to members and visitors to sample her menu free of charge on Friday evening. The much-anticipated Ladies V Gents contest takes place on Saturday with Rosie Browne and Maurice Brennan captaining the respective teams. Alongside the big match the Saturday competition will be the usual Ladies and Gents Open Singles Stableford while Sundayís event is a Gents Open Singles Stableford.

The Prize Presentation of all the Matchplay and Golfer of the Year competitions takes place on Saturday immediately after the golf and the finalists in the following events are requested to attend to receive their prizes: Golfer of the Year, Eclectic, Inniskilling Cup, Bigger Cup and Dunluce Trophy.