Your local site for club notes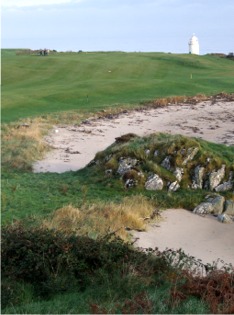 Greencastle Golf Club Contact Details
If you wish to contact us regarding the club notes, please do so...
Email: clubs@inishowennews.com
:: Greencastle Golf Club
19.02.18
Forthcoming Fixtures
Saturday 24 Feb 2018 - Ladies and Gents Open Stableford
Sunday 25 Feb 2018 - Gents Open Stableford
Competition Results
Barry Nicholas spread-eagled the field on Saturday last at Greencastle with a brilliant score of 38 points to claim his second victory in a fortnight. Barry's nearest challenger was Tony McGeady who had defeated him in last year's Inniskilling Cup semi-final. Third spot was taken by Mike Bonner who has been showing some form in recent weeks. Full results were:

Saturday 17th February - Gents Open Singles Stableford
1st Barry Nicholas (13) 38;
2nd Tony McGeady (12) 35;
3rd Mike Bonner (18) 34.

The morning golfers had the best of the weather on Sunday and Shane McDermott took full advantage with a fine winning score of 35 points. Gavin Gallagher took the runner-up place on break-of-tie from Ray Kelly, both scoring 34 points. Full results were as follows:

Sunday 18th February - Gents Open Singles Stableford
1st Shane McDermott (14) 35;
2nd Gavin Gallagher (12) 34;
3rd Ray Kelly (19) 34.

The usual Ladies and Gents Open Stableford will be held on Saturday 24th February with a Gents Open Stableford scheduled for Sunday 25th February.

Greencastle members are reminded that the draws for the Bigger Cup Fourball Matchplay and the Inniskilling Cup Singles Matchplay will be held on St Patrick's Day following the Captain's Drive-In.

Presentation of Cups and Trophies 2017
Golfer of the Year – Kevin Lake had a great year and was the club's most consistent performer in 2017.
Inniskilling Cup – Paul Wallace confounded the pundits by winning the Singles Matchplay competition as the club's lowest handicapper. Tony McGeady made it a great final succumbing only on the 18th green.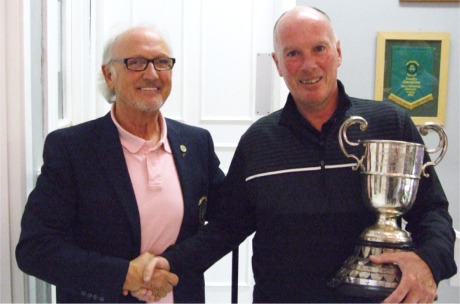 Captain Brian McRory is shown presenting the Inniskilling Cup to Paul Wallace.
Dunluce Trophy – Veronica Harkin and Tim Creedon finally won the Mixed Foursomes competition after a number of near misses when defeating the formidable pairing of Mary and Maurice Brennan.
Bigger Cup – Dark horses Brendan McCloskey and PJ O'Toole eclipsed firm favourites Tommy McBride and Peter Lawrance in a keenly contested final of the club's Fourball Betterball Matchplay competition.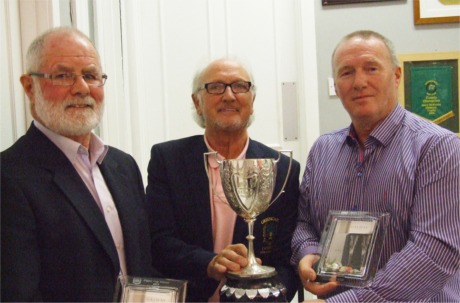 Captain Brian McRory is shown presenting the Bigger Cup to PJ O'Toole and Brendan McCloskey.
Eclectic Score – Three players could not be separated when they all recorded the same eclectic score of 27 under par to share the victory for the best score at each hole over the course of the season. Congratulations to Brendan Deehan, Sean McCafferty and Brian Stewart.