Your local site for club notes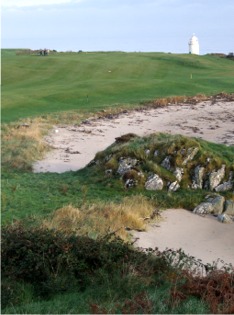 Greencastle Golf Club Contact Details
If you wish to contact us regarding the club notes, please do so...
Email: clubs@inishowennews.com
:: Greencastle Golf Club
27.06.17
Forthcoming Fixtures
Thursday 29 June - Ladies 18 Hole Stableford
Saturday 01 July - Paul Houston L&G Open
Sunday 02 July - Seabound Engineering Gents Open

Competition Results
The curtain came down on Greencastle's Open Week on Sunday 18th June with the Bishop's Gate Hotel sponsoring the prizes. On another day of good scoring the contest was between youthful exuberance and years of experience. In the event it was young Eoin O'Doherty who got the upper hand from seasoned campaigner Arthur Bell. While Eoin's four birdies were enough to claim the top prize, Arthur could claim to have the Shot of the Week with an ace at the Heather Bank. Full results were:

Sunday 18 June - Bishop's Gate Hotel Open
1st Eoin O'Doherty (8) 42;
2nd Arthur Bell (16) 41;
3rd Kevin Crumley, Foyle (14) 40;
Gross Jason McLaughlin (4) 34;
1st 9 Michael McLaughlin (18) 23;
2nd 9 Donal Bryce (12) 22;
1st Lady Pat Donaghy (23) 33
2nd Lady Marian Devlin (14) 32.

Moville GAA held its Annual Teams of Four Classic on Saturday last and the event attracted a large entry and many generous sponsors. With the course in excellent condition Ryan Doherty led his team to the top of the leader board to win by 5 clear points from the rest of the field. Full results were as follows:

Saturday 24 June - Moville GAA Teams of Four
1st Ryan Doherty, Gavin Gallagher, Billy Kerr and Barney Boyle 99pts;
2nd Billy Harley, Ciaran Kelly, Hilary Donnelly and Paddy Monagle 94 BoT;
3rd John McDermott, Alan Elkin, John Lynch and Joe McCafferty 94 BoT;
4th Brian McRory, Maurice Brennan, Phonsie McCole and John Bradley 94;
Gents Longest Drive Jason McLaughlin;
Ladies Longest Drive Anne Bonner;
Nearest the Pin Richard McKee.

An Post Moville were the sponsors of Sunday's Open Stableford and the popularity of the sponsor was reflected in the large entry and the brilliant scoring. Local man Frank Kelly took the honours with a superb score of 44 points to leave the rest trailing. Vice-Captain Maurice Brennan was his nearest challenger fully 3 points behind. Full results were:

Sunday 25 June – An Post Moville Gents Open Singles Stableford
1st Frank Kelly (11) 44;
2nd Maurice Brennan (9) 41;
3rd Stephen McNiece (18) 41;
Gross Tommy McBride (6) 31;
1st 9 Austin Kelly (14) 22;
2nd 9 Niall McCourt (11) 40.

Scrambling continues this week with first draws at 6pm on Tuesday evening and all are welcome. Next weekend's events begin on Friday evening with Greencastle hosting Narin and Portnoo for the second leg of their Donegal League match teeing off at 5pm. A minor miracle could ensure progress to the next round. The Paul Houston Ladies and Gents Open takes place on Saturday, while Sunday's Gents Open competition is sponsored once again by local firm Seabound Engineering.