Your local site for club notes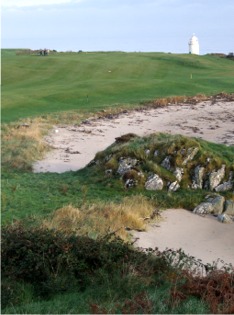 Greencastle Golf Club Contact Details
If you wish to contact us regarding the club notes, please do so...
Email: clubs@inishowennews.com
:: Greencastle Golf Club

21
.11.17
Forthcoming Fixtures
Saturday 25 November 2017 & Sunday 26 November 2017
No competitions this weekend. The old nine is still open if anyone wishes to come and play.

Competition Results
Youth and Experience both had their days over the weekend in Greencastle Golf Club's Christmas Hampers. Hubert Cavanagh only had one point on the last hole, but that one point gave him a break of tie victory over Brian Barr and Adrian Torrens who also had 34 points but only 17 points on the inward holes compared to Hubert's 18. Full results were:

Saturday 18th November - Gents Christmas Hamper Day One
1st Hubert Cavanagh (17) 34;
2nd Brian Barr (12) 34;
3rd Adrian Torrens (14) 34;
4th Kevin Thompson (10) 33;
5th Brendan McCloskey (13) 33.

Young Eamon Kelly spread-eagled the field on Sunday to shoot 39 points over the 15-hole layout and take home the second day's Hamper. A timely birdie 2 at Bovairds came in the middle of three double bogies and gave Eamon 2 points to spare over the field. Paddy McGilloway birdied four holes on the outward half to take the runner-up spot. Full results were as follows:

Sunday 19th November - Gents Christmas Hamper Day Two
1st Eamon Kelly (21) 39;
2nd Paddy McGilloway (11) 37;
3rd Neil Guckian (8) 35;
4th Declan McBay (14) 35;
5th Karol Lynch (19) 35.

No competitions this weekend (Saturday 25 & Sunday 26 November). The old nine is still open if anyone wishes to come and play.

Greencastle members are reminded of the following dates for their diaries:
Thursday 30th Nov and Saturday 2nd Dec– Ladies Christmas Hampers;
Sunday 3rd December – Gents Fourball Betterball;
Sunday 3rd December - Nominations for Council by 6pm;
Saturday 9th December – AGM in clubhouse at 5pm.

Presentation of Cups and Trophies
Golfer of the Year – Kevin Lake had a great year and was the club's most consistent performer in 2017.
Inniskilling Cup – Paul Wallace confounded the pundits by winning the Singles Matchplay competition as the club's lowest handicapper. Tony McGeady made it a great final succumbing only on the 18th green.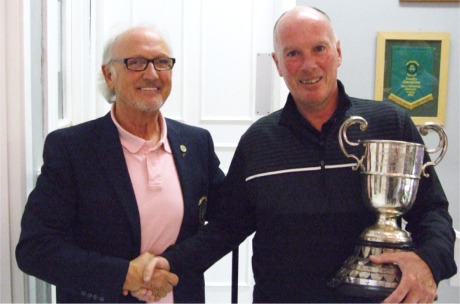 Captain Brian McRory is shown presenting the Inniskilling Cup to Paul Wallace.
Dunluce Trophy – Veronica Harkin and Tim Creedon finally won the Mixed Foursomes competition after a number of near misses when defeating the formidable pairing of Mary and Maurice Brennan.
Bigger Cup – Dark horses Brendan McCloskey and PJ O'Toole eclipsed firm favourites Tommy McBride and Peter Lawrance in a keenly contested final of the club's Fourball Betterball Matchplay competition.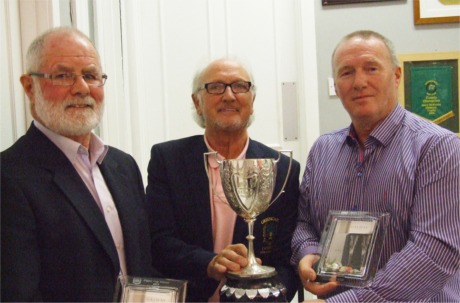 Captain Brian McRory is shown presenting the Bigger Cup to PJ O'Toole and Brendan McCloskey.
Eclectic Score – Three players could not be separated when they all recorded the same eclectic score of 27 under par to share the victory for the best score at each hole over the course of the season. Congratulations to Brendan Deehan, Sean McCafferty and Brian Stewart.