Best value Inishowen advertising

Full Listing Offer
- Take out a Full Listing online
(only €100 per year)
AND
- Get a complimentary listing in the 2017 printed directory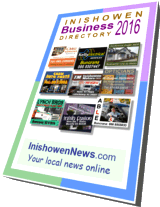 Being delivered by An Post to over 15,400 homes in June 2017.
:: Full Listing Offer - €100 per year
To get your Full Listing simply complete this form...
---
---
With over 80% of the Irish population using the internet regularly, the majority of your potential customers are now online.
We have more than 1,000 readers per day. As the largest website in Inishowen and one of the top sites in Donegal we offer you a prime opportunity to reach your target audience.