Tower Museum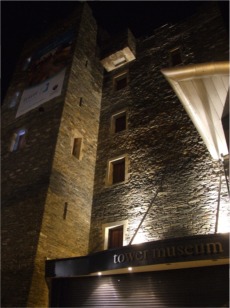 If you have any community notes you would like published please tell us...
Email: notes@inishowennews.com

Add to Favorites
:: Derry City
Future Artist Maker Labs: The Exhibition
26 November 2017 - 26 February 2018
Time: Tuesday - Saturday : 10:00 - 17:00 & Sunday - 12:00
Venue: Nerve Visual Gallery, Ebrington
Admission: Free

From the printing press to colour photography to powerful laser cutters, the creativity of each generation's artist-makers evolves in relation to new technologies.
Future Artist-Makers: The Exhibition explores how today's artist- makers are embracing the latest digital fabrication tools such as 3D printers, laser cutters, and CNC routers, to imagine, design and create artworks that otherwise might not be possible.

Future Artist-Makers also highlights how artist-makers from across Europe are critically engaging with the FabLab ethos of open-source design, creative collaboration and hardware hacking, and how the combination of 'new machines, new materials and new networks' are beginning to make their mark.
Curated by Declan Sheehan, Nerve Centre, with assistance
from Javier Garcia Buron, Director FabLab Limerick, School of Architecture, University of Limerick, and Gustavo Valera, Ultra-Lab Madrid.