Tower Museum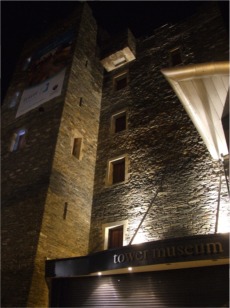 If you have any community notes you would like published please tell us...
Email: notes@inishowennews.com

Add to Favorites
:: Derry City
Slow Food Festival
29 Sep 2018 - 30 Sep 2018 at Guildhall Square
Derry City welcomes the return of the Slow Food Festival. Slow Food is a global, grassroots organisation that promotes the true enjoyment of good food with the commitment to community and the environment - a major two-day celebration showcasing the best of local, clean, fair food from across the North West.
Featuring Slow Food Market, talks & demos from Paula McIntyre and Aine Carlin, tours & tastings, street food, family fun…and lots more.
Opening time: 12:00
Prices: Free

Legenderry Motor Show 2018
30 Sep 2018 at St. Columb's Park
Are you a vintage car enthusiast? The Legenderry Motor Show has become an annual event to celebrate classic, vintage, retro American modified cars, motorbikes, tractors and trucks.
Come along to this great family day out to see all forms of classic to modern cars and motor cycles.

Fashion Fest 2018
13 Oct 2018 at Guildhall, Derry
Fashion Fest is back for 2018 featuring the headline event in the Fashion Calendar, the Fashion Designer Show. Taking place in one of the city's most iconic landmark buildings, this stylish celebration will once again showcase the very best in emerging and established designers.
Fashion Fest 2018 is delighted to announce that celebrity stylist and esteemed fashion designer Kate Halfpenny will be closing the show with her luxury brand Halfpenny London. Kate can boast working with clients such as Rihanna, Erin O'Connor and Kate Moss and will be showing pieces from her bridal collection as well as her 'Black Edit Collection' with an epic finale to this year's show. Not to be missed.
Entertainment by Irish Singer / Songwriter Emma Wallace
Doors open 19:00 / Show starts 20:00
Prices: Standard £15 / Students & Groups £13.50

City of Derry International Choir Festival
24 Oct 2018 - 28 Oct 2018 at St Columb's Hall, Derry
Created as a joyous celebration of choral music-making, the festival provides opportunities for competitive and non-competitive participation for singers across a wide range of styles, ensembles and ages.
School, national and international choirs are invited to take part in a range of competitions across the five-day festival including Equal Voice, Mixed Voice, Youth, Sacred, Popular, Jazz & Gospel, and Vocal Ensemble categories.
Aside from the competitive focus, the City of Derry comes alive with pop-up performances, high-quality concerts and educational activities providing a celebration of everything choral music has to offer.

Derry Halloween
26 Oct 2018 - 03 Nov 2018
Over the last 32 years, the Walled City has become synonymous with hosting one of the world's richest Halloween festivals that has made its way on to bucket lists across the globe mainly via word of mouth recommendations. The spectacular backdrop of Derry's historic Walls have created the perfect setting to generate a truly authentic visitor experience.
A welcome like no other awaits you, as the division between this world and the other world is at its thinnest, as supernatural beings and the souls of the dead flood into the city.
Join us on an 8 day celebration like no other, filled with ghoulish events and frightful fun for all the family.
Highlights include Awakening the Walls, Haunted Harvest Market, Museum of the Moon, Little Horrors shows and entertainment, Monster Fun Fair, Samhain Sessions, Tours & Trails, Carnival Parade, Fireworks plus lots more.