Tower Museum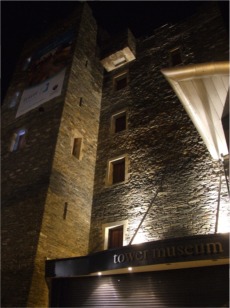 If you have any community notes you would like published please tell us...
Email: notes@inishowennews.com
:: Derry City
Coming Home: Art and the Great Hunger
Fri 18th January - Sat 16th March
Cultúrlann Uí Chanáin, 37 Great James St, Derry
The world's largest collection of famine-art opens in Derry.
Coming Home: Art and the Great Hunger , the acclaimed famine-related art exhibition, will open to the public on the 18th January at Cultúrlann Uí Chanáin, 37 Great James Street, Derry and will run until 16th March 2019.
The exhibition has been touring Ireland for twelve months and has been viewed by over 90,000 people at Dublin Castle and at the West Cork Arts Centre in Skibbereen. This will be the only opportunity to view the art in Northern Ireland and the last time to see it in Ireland before it returns to the US in March.
Admission to the Coming Home exhibition is free and the exhibition opening times are available on www.culturlann.org .


Spring Carnival
Sat 16th Mar - Sun 17th (GMT)
Various Venues across Derry
Celebrate St Patrick's Day 2019 with an action packed weekend of activities for all the family. The two day festival will be a celebration of Music, Food and Culture and include a number of key events throughout the city.


MakingtheFuture Kids Workshop: Get Crafty
Sun 14th Apr 11:30am - 3pm
Nerve Visual Gallery, 80-81 Ebrington St, Derry
Times: 11.30am - 12.30pm & 2.00pm - 3.00pm.
For ages 5+.
Easter-themed workshop for the whole family. Get hands on with glitter, feathers, ribbon, card, fabric and more. The possibilities are endless!
Workshops are free, however, pre-booking is required. Email m.hamill@nervecentre.org to reserve your place. All workshops materials will be provided. Parent/guardian must attend.


City of Derry Jazz and Big Band Festival 2019
2nd – 6th May 2019
The Derry Jazz Festival features artists from all over the world and welcomes more than 60,000 revellers.


Waterside Half Marathon
Sun 1st Sep
St Columbs Park
The 38th Waterside Half Marathon returns to the city on Sunday 1st September 2019.