Buncrana from the Conaberry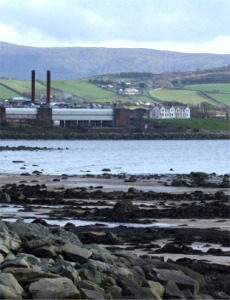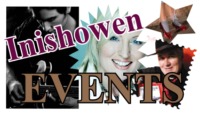 If you have any community notes you would like published please tell us...
Email: notes@inishowennews.com

Add to Favorites
:: Buncrana/Fahan
Céilí with music by Martin Duggan in Desertegney Hall on Friday, 23rd November 2018, from 9pm - midnight. The Parents' Committee of Coláiste Chineál Eoghain welcomes everyone to join them. Entry on door €5.
Calling all past pupils, parents and friends of Crana College. Our Careers Dept are hosting a Role Model Day on 20th November. We'd love you to share your career path with our pupils. If you are available please contact Anne or Shirley on 93 61113.

Local Link Donegal: An extension of the Friday Local Link service that runs from Clonmany, Urris and surrounding areas into Buncrana is increasing to include an additional service on Tuesdays, that will commence on Tuesday November 6th.
To book your seat on either service call the Local Link Office the day before on 074 97 41644. Free Travel Pass Accepted. Fares: €2.50 single & €5 return.
There will be a Christmas craft fair held in the iCare centre on 2nd of December from 3pm till 6pm. Table will cost €10. To book a table contact iCare at 0861081200 or email centremanager@icare.ie .
Social Prescribing: Would you like to be more active, get involved with the local community, find out what is happening and meet new people. The HSE funds this service. Give Carmel a call to find out more 0860 406 950.

If you are concerned about your dependence on alcohol, drugs or gambling, staff at White Oaks Rehabilitation Centre, Derryvane, Muff, provide a confidential counselling service for individuals, couples or families. Contact 9384400. It has been said that a journey of 1000km begins with the first step, begin the journey into recovery today.
Men's Coffee Night: Open to all men who want to talk to other men about any issues affecting their lives - Lily Rose, Main Street, Buncrana on Thursdays at 7pm.
Are you looking to go back into employment? People 1st in conjunction with the WISE Project can help you with the following: Dedicated Personal Employment Advisor, Advice & Assistance with CV preparation, Interview techniques, Job applications and much more. WISE is free and funded by the ESF, open to women of all ages, who are currently not working or who are in receipt of social welfare payments that are not classified as 'jobseeker' payments. To find out if you're eligible, call Penny on 086 1452252 .

Charity Shop open in 'Old Stationery Shop' behind Mulholland Dentist - Westend. Proceeds to victims of Volcanic Eruptions in Guatemala. Open 10am - 5pm. Donations welcome.

Buncrana Parkrun (5k Walk/Run) every Saturday Morning 9.30am sharp meeting at the Tip O'Neill statue, Shore front, free entry. Also Buncrana parkwalk every Saturday, all welcome. Register online at www.parkrun.ie. Coffee afterwards in the Fishermans Wharf - 10% discount, see you there!

Ardaravan Clinic Are you over 65 or under 65 and on Chronic Medications? If so you are likely eligible for this winter's Flu Vaccine. Now available walk-in clinics Mon between 12pm-1pm and 4pm-5pm, Wed 12pm-1pm, Thurs12pm -1pm. Tel, 9361800.

Buncrana Chamber of Commerce are delighted to present an exciting Halloween event for all little ghouls and goblins. On Wed 31st Oct from 3.15pm - 5.15pm 23 chamber businesses will take part in a Halloween hunt where little pumpkins and princesses can visit for a treat. The map of the route will be available in local papers, participating businesses and distributed in local schools. The hunt is just for fun and not a competition but we encourage them to try and get to all 23 if they dare! A free fun party will then be held in the plaza ballroom from 5.30pm to 7pm with disco, bouncy castles and prizes for best dressed. Come join the spooky fun.

Samaritans Helpline Call Free: 116 123, Text: 087 2609090.

Desertegney Parent & Toddler Group, everyone welcome to join us for a cuppa, chat & play Thurs 10am –12noon, upstairs in Dunree FC.

If alcohol is causing problems in your life, AA have meetings in Buncrana, Sat 11.30am & Sun 8pm, St Teresa's Room (behind Oratory).
Irish youth club for 10-18 year olds meets every Thursday from 5.30pm - 6.30pm at Tullyarvan Mill, Buncrana. Annual Foróige registration fee €30 (max €40 per family). Weekly club fee €2. See CE Óige - Foróige Club, Bhun Cranncha Facebook page or call Joleen on 086 232 5402 for further information.

Volunteers required for Buncrana youth clubs. If you are over 18 years old and want to gain experience working with young people or have an interest in youth work then please contact Joleen on 086 232 5402 for further information. Garda Vetting will be carried out and child protection and youth work training will be provided.

Tea & Toast is a positive mental health group set up to help mums. That's mums to be, new mums, experienced mums or gran mums. We meet in Cockhill Youth club once a month for a moan, groan, cuppa and goodie whilst listening to speakers share their knowledge and wisdom. It's on Wednesday evening from 7:30 - 9:30pm and no kids. It's a great way to meet new people, understand motherhood is tough but we are all in it together.
Scoil Trad Bhun Crannacha Traditional music lessons on bodhran and a range of melody instruments, ages 7 and over in Buncrana Youth Club. Tel Liz or Jim on 0872873059 or 0874186082.

Buncrana Park Run (5k Walk/Run) every Saturday Morning 9.30am sharp meeting at the Tip O'Neill statue, Shore front, free entry. Also Buncrana Park Walk every Saturday, all welcome. Register online at www.parkrun.ie. Coffee afterwards in the Fishermans Wharf - 10% discount.
Buncrana Parent & Toddlers group meeting every Wednesday & Thursday in St Mary's Hall Buncrana from 10-12pm €3 per family. All welcome.

Buncrana Go-Active: Annual membership fee is €10. Call 087 1417121.
Sliabh Sneacht Centre: Drumfries Walking Group every Friday meeting outside the Ballyliffin Hotel at 10am for the Arda walk. The walk will last approx one hour with light refreshments served afterwards. Everyone welcome.

AA - If alcohol is causing problems in your life, the AA has meetings in Buncrana on Saturday at 1.30pm and Sunday at 8pm in St Teresa's Room (behind The Oratory).
Community Employment Childcare Scheme
Are you 21 and over, in receipt of a Irish Social Welfare Payment for 1 year or more, interested in working in a childcare setting and leaving the scheme with a major award in Early Childhood Care & Education Level 5 or 6, you should talk to Pauline Coyle Community Employment Supervisor, Inishowen Development Partnership, Buncrana on 0861739920.
Buncrana Junior Foróige Club (10 - 12 year olds) from 6.15pm - 7.30pm at The Exchange, Castle Ave, Buncrana. New members welcome! Call Joleen on 086 232 5402 for further information.

Sliabh Sneacht Centre
Winter Courses: Mindfulness & Stress Management, Photography, Healthy Eating Cookery Course, Flower Arranging, Pottery, Basic Computers, Dressmaking & Alterations (Mornings), Cookery Course for Men. Other activities: Jive & waltz Class with step by step instruction Tues from 9pm – 10:15pm; Music lessons – Guitar every Tues 4pm – 5pm & Singing 5pm – 6pm; Irish Dancing - Wed 4:30pm - 7: 00pm; Active Kids Club. Tots Club 3yr – 5yr olds from 10am to 10:50 & Big Kids Club 11am – 12 noon; Early Morning Circuits. A workout for all levels of fitness - Tuesday & Thursday mornings 6:45am – 7:45am; Ladies Fitness Class. There will be two classes per week on a Wed & Fri morning from 9:30 – 10:30 am. Suitable for all levels of fitness.
Contact us on: 074 93 61 742 / Text: 087 148 6001 or email: info@sliabhsneachtcentre.ie .

WISE - Women's Integration, Skills and Employment. People 1st in conjunction with the WISE Project can help our clients with the following: Dedicated Personal Employment Advisor; Advice & Assistance with … CV, Interview preparation, Job applications plus Career Planning & Job Brokering; Access to Employment Opportunities; Support in your New Job for the first 6 months; and much more - Contact Gemma on 086 145 2252.
Volunteers are urgently needed for Lifeline (Inishowen) Domestic Violence Service. Are you interested in becoming part of a team in supporting families in Inishowen? For further information please call 074 93 73337 from 10am to 1.30pm Monday - Friday or email info@ldvs.org .
Buncrana Senior Citizens Committee: Anyone who has a personal monitored alarm should check them monthly to make sure that the battery is still working. If anyone has an alarm that is no longer in use, could they please return it to Jim Henderson or any committee member. Tel 074 9361666.
Interested in voluntary work with young people (10-18 years) in Buncrana?
Various regular or occasional opportunities for people over 18 years, including Drop-In work, homework club, grinds, junior and senior youth clubs. All work in association with Donegal Youth Service or Foróige. Training provided. To find out more contact Andrew 087 256 4777 or Joleen 086 232 5402.
Photo Restoration and Framing at Pixcam, Railway Road, Buncrana. If you have an old sentimental photo that you would like restored or framed, call 074 93 62783. A large number of personalised gifts and frames for all occasions also available.

Angling Centre 25 Card Drive every Thursday at 8pm. All welcome.

Inishowen Outreach Clinic: Do you have a hearing loss and need more info? tel. 9188252 text 0868858194 for appointment.

Illies Community Development pitch and multipurpose hall available for booking sports activities or birthdays parties. For details or bookings telephone 086 2556216.
Buncrana Youth Drop-In: A free writers book club Literati at The Drop In, every Saturday. from 4-5.30pm. If you enjoy reading and/or writing then come along. Books will be supplied. Entrance beside Plaza tel. 0863627300.

Men's Walking Group for Health invite men from Inishowen to join and reap the health benefits of walking. IDP is promoting this initiative. For more info on the programme or to start a walking group in your area tel. Margaret 0868375592 or email margaret@inishowen.ie .

Golf for Girls: Any girls under 18 interested in learning to play golf please contact Sheila on 0864000395 for details.