Your local site for club notes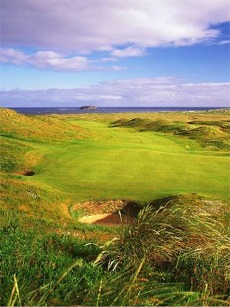 Ballyliffin Golf Club Contact Details

Add to Favorites
If you wish to contact us regarding the club notes, please do so...
Email: clubs@inishowennews.com
:: Ballyliffin Golf Club

06.02.17
Forthcoming Events in Ballyliffin
Friday 10.2.2017 - Ladies & Gents Open on The Old Links.
Saturday 11.2.2017 - GUI Open on Glashedy.
Sunday 12.2.2017 - Confined on The Old Links.

The Donegal Links Classic (May 29, 30, 31) at Ballyliffin, Portsalon & Rosapenna Golf Resort.
Great North Links Classic (October 11, 12, 13) at Ballyliffin, Royal Portrush & Portstewart Golf Clubs.
Ballyliffin Golf Club Results 06.02.17

Sun 5.2.17 Sunday Confined

Glashedy Links
1st Paddy McDermott (12) 39 pts.
2nd Neil McCarron (13) 37 pts.
Back 9 Low: Vincent Grant Jnr (14) 21 pts.
Back 9 High: Cornelious Collins (16) 21 pts.

The Old Links
1st John Moore (17) 43 pts.
2nd John Geoghegan (21) 38 pts.
Gross: Brendan Devlin.
Back 9 Low: Ciaran McDermott (14) 23 pts.
Back 9 High: Patrick J Doherty (16) 20 pts.
CSS N/Q

Sat 4.2.17 Saturday Open
1st Brendan Devlin (1) 39 pts.
2nd Daniel G McGonagle (21) 38 pts.
3rd Liam Cregan (13) 37 pts.
Gross Bryan Northey (5) 30 gr. pts.
4th Charlie McVeigh (14) 37 pts.
CSS N/Q

Congratulations to Charlie McVeigh on his 'Hole in One' on the 5th hole 'The Tank'.

Fri 3.2.17 Friday Open
1st Bob McFeely (15) 35 pts.

Ladies Results
Sun 5.2.17 Sunday Confined
0-18
1st Lisa Glover 19 pts.
2nd Mary T Hackett 17 pts.

19-28
1st Molly McCloskey 22 pts.
2nd Mary McGonagle18 pts.

29-36
1st Teresa O'Doherty 19 pts.
2nd Teish Doherty 18 pts.


A full weekend of golf in Ballyliffin began with the Friday Open. The winning score came from Bob Mc Feely [15] with a score of 35pts.
The Saturday Open was on the Old course and once again Brendan Devlin [1] showed his class with a 2 under par round giving him a winning score of 39pts. In 2nd place it was the younger of the two Mc Gonagle brothers turn this week to feature, Daniel G McGonagle [21] took 2nd place with 38pts. Liam Cregan[13] made his trip down, worthwhile by taking 3rd with 37pts. Also on 37pts in 4th spot was Charlie Mc Veigh [14]. I was reliably informed that Charlie couldn't bite his finger when he left the clubhouse after having a Hole In One at the 5th hole 'The Tank' , he used his trusty 7 wood to do the job. Obviously Charlie misplaced my number because I didn't get a call to help him empty the bar. Congratulations Charlie. Our Captain Bryan Northey [5] wasn't going to be outdone by his playing partner Brendan Devlin so he took the Gross with 30 gross pts.

After early morning frost golf got under way on Sunday in the Confined competition at 11:30 am on both courses.
On the Old course John Moore [17] kept his run of form going by taking top place with 43 pts. In 2nd place was that other voucher king John Mc Geoghegan [21] with 38pts. The Back Nine went to Ciaran Mc Dermott in the Low section with 23pts and to Patrick J Doherty in the High section with 20pts
On Glashedy our Vice Captain Paddy Mc Dermott [12] decided to get in on the action and took 1st place with 39pts. Neil Mc Carron[13] was back this week again taking 2nd place with 37pts. 2 sweeps in a row Neil against all those bandits is good going. The Back Nine went to Vincent Grant Jnr in the Low section with 21pts and to Cornelious Collins in the High section with 21pts.

Brendan Devlin [1] was back again taking the Gross. I didn't get his score but he was probably about 10 under.
The Wed. Soc. was won by form man John Moore with 37pts on the break of a tie with Gerard Friel also with 37pts. In 3rd place Philip Laird with 36pts.