Your local site for club notes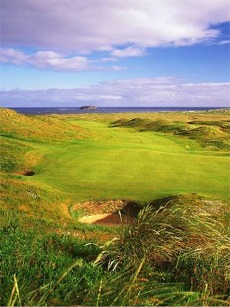 Ballyliffin Golf Club Contact Details

Add to Favorites
If you wish to contact us regarding the club notes, please do so...
Email: clubs@inishowennews.com
:: Ballyliffin Golf Club

26.06.17
Forthcoming Events
Ballyliffin Golf Club Open Week
Monday 26th June to Sunday 2nd July. Visitors €40 per person. Plus 9 Hole Ladies Open Comps €20.
Tues 11th July 2017 - Ladies & Gents Open on Glashedy.
Sat 15th July 2017 - Captain's Day Mr Bryan Northey, draw will be available Friday 30th June 2017.

Sat 22nd & Sun 23rd July - Ballyliffin Pro-Am. Winners prize is a golf holiday to The Algarve, Portugal, staying in the Monte Rei Golf Resort, 2 nights B&B in a 3 bed villa for 4 guests, 2 rounds of golf p/p & includes buggies & practice round.

Wed 11, Thurs 12 & Fri 13 Oct 2017 - The Great North Links Challenge. Ballyliffin, Royal Portrush & Portstewart Golf Clubs.

Ballyliffin Golf Club Results
Sunday Confined 25th June 2017
1st D Clancy (11) 41 pts.
2nd J Monagle (11) 39 pts
3rd G McCafferty (24) 38 pts
4th K McLaughlin (11) 37 pts
Gross: R Doherty (5) 30 gr. pts
Back 9 J Nicel (13) 22 pts.
CSS: 72

Saturday 24th June 2017 Inishowen Rugby Club FC Classic
1st M McLaughlin HB, C McLaughlin HB, P Mooney, P Harkin 92 pts.
2nd B Gibbons, G Crossan, J Carr, O McConalogue, 90 pts.
3rd S Kelly, J Doherty W, P Quigley, P Monagle. 90 pts.
4th M Desmond, K O'Neil, D Henry, P O'Donoghue, 90 pts.
5th J.D. O'Kane, P Farren, D McElhinney, Y McCarron, 88 pts.
6th L Doherty W, J McEleney, J Grant, C O'Kane 86 pts.
7th C McVeigh, C McLaughlin, J Clancy, E McLaughlin 86 pts.
8th M Concannon, J Connolly, W Hunter, J Harte, 85 pts.
9th R Postrero, J McDaid, K Marston, J Davie, 85 pts.
Nearest the Pin: M Boyle.
Ladies Longest Drive: Yvonne McCarron.
Gents Longest Drive: Gary McGeoghan.

Friday Scramble 23rd June 2017
1st S Grant, PN Grant, J McDaid, T O'Doherty. 25.1.
2nd K Doherty, P Lafferty, G Daly, R Doherty 25.7.
3rd B Kelly, K Marston, J Gill, D Butler 28.0.

Sunday 25th June 2017 Ladies Confined 9 Hole
0-18
1st A McLaughlin P 14 pts. (bot).
2nd Jn Doherty 14 pts.

19-28
1st L O'Doherty 18 pts.
2nd M McEleney 16 pts.

29-36
1st M O'Kane 18 pts.
2nd M Andrews 17 pts.

Thursday 22nd June 2017 18 Hole Confined
1st G Mullan 35 pts (bot).
2nd M Mathews 35 pts
3rd A Murphy 34 pts.

Tuesday 20th June 2017 Fr Adrian Porter Memorial Trophy
Overall Winner: Desmond Cuthbert (15) 39pts
1st Mark Davis (5) 39pts
2nd John McEleney (16) 39pts
3rd Darryl Butler (17) 38pts
Gross: Brendan Devlin (+1) 34pts
4th Padraig Porter (14)38pts
5th Stephen Anderson (5) 38pts
6th David McGeough (5) 37pts
7th Kevin Hirrell (14) 36pts
8th Ryan McLaughlin JB (4) 36pts
9th Conor Kelly (21) 36pts
10th Darragh McLaughlin (6) 36pts
11th DJ McGeoghegan (9) 35pts
12th Hugh McEleney (12) 35pts
13th Des Elliot (17) 35pts
14th Bernard McClure (18) 35pts
Back 9: Rhee Postrero19pts
Longest Drive: Paul Doherty(G)
Nearest The Pin: Martin Boyle

Ladies:
1st Jackie Doherty 36pts
2nd Gearldine McLaughlin 35pts
3rd Elaine McLaughlin 35pts
Gross: Margaret Doherty (O) 26pts
4th Brege Boyle 34pts
5th Lynda O'Doherty 34pts
6th Yvonne McGonigle 34pts
7th Noeleen Gordon 34pts
8th Mary T Hackett 33pts
9th Agnes Logue 33pts
10th Karen McLaughlin 33pts
11th Ruth McGartoll 33pts
12th Marie D'Urso 32pts
13th Cathy McGeoghegan 32pts
14th Aine Northey 32pts
Back 9: Ann Friel
Longest Drive: Jackie Doherty
Nearest The Pin: Joan Doherty