A welcoming hand to Newtown newcomers

02.09.10
THE village of Newtowncunningham is reaching out to newcomers with the launch of a community directory called 'Your Community, Your Choice'.
The directory booklet was compiled by Teresa McGee, warden at Trinity Court, to provide information about the village to newcomers to the area.
The demographics in the village have changed over the last number of years and Newtowncunningham Interchurch Committee is keen to embrace the diverse nature of the area.
Peace III Good Relations Officer at Donegal County Council Sarah Lapsley said the local authority was delighted to support the initiative.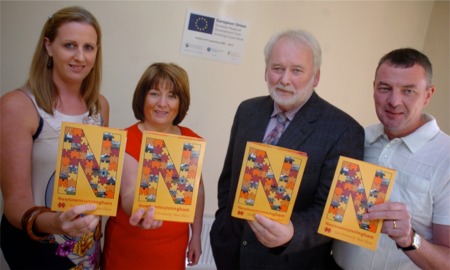 Donegal County Council good relations officer, Sarah Lapsley, Teresa McGee, secretary of Newtown Interchurch Committee Ltd, Pat McArt, who launched the booklet and Francis Conaghan, good relations officer, Donegal County Council.
"We are keen to ensure that all newcomers to County Donegal feel welcome in their new communities and this initiative ensures that anyone arriving in the Newtowncunningham area are aware of where to go for a range of public and community services. Through our projects we are aiming to embrace and celebrate diversity in the county and we feel this project is assisting in delivering on this aim."
The booklet was launched by Pat McArt during an evening of activities last Friday.
This project was funded by Peace III through the Donegal County Development Board Peace and Reconciliation Partnership.