Greencastle woman wins €52,000 on Winning Streak
15.01.19
A GREENCASTLE woman won a total €52,000 on the Winning Streak game show on RTE last Saturday and got to spin the grand prize wheel.
Getting to spin the famous wheel never came into the mind of Annmarie Doherty from Greencastle – it was enough to just appear on the show! But she won a whopping €30,000 on the wheel to add to the €22,000 in cash she had won earlier.
Annmarie plans to buy a new car with her winnings as her old one recently failed the NCT. She will also treat husband, Michael, who will soon be turning 50, and their twin boys Finn and Loughlin (14).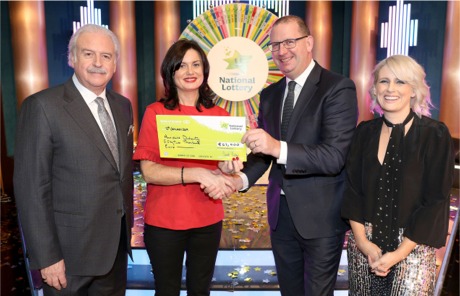 Pictured at the presentation of the winners cheques were from left to right: Marty Whelan, Winning Streak game show co-host; Annmarie Doherty, Niall Andrews, Head of Sales and Operations at the National Lottery and Sinead Kennedy, Winning Streak game show co-host. The winning ticket was bought from GALA Express in Drung.
Leading up to the programme, Annmarie was a mixed bag of nerves and excitement. She said she was overwhelmed by the many well-wishers in her community and the number of texts and messages from far and wide wishing her luck.