Donegal mother shares story of baby's health scare
22.03.19
DONEGAL mother Bella Ward has shared her heart-breaking story of when one of her twin daughters was born prematurely in a critical condition.
Baby Kayleigh was born with serious cardiac conditions and had to be airlifted to Crumlin hospital where she received life-saving world-class care.
Bella said she'll 'never forget' the kindness of the nurses in Crumlin Hospital and said that she will always have a special place in her heart for the Children's Medical Research Foundation (CMRF) Crumlin.
CMRF Crumlin raises vital funds for Crumlin hospital and the National Children's Research Centre (NCRC).
"My twin girls Kayleigh and Emily were born in Letterkenny Hospital at 34 weeks but when they were one week old a nurse from the neonatal unit called us at 3am," Bella said.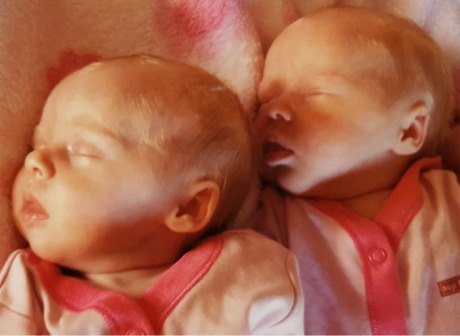 Twin babies Kayleigh and Emily
"She told us Kayleigh was in a critical condition. It was terrifying. We didn't know what was happening. We were so lucky the girls were in the neonatal unit and the team acted immediately. We knew something serious was wrong with Kayleigh's heart and a team from the Rotunda stabilised our baby girl so she could be airlifted to Crumlin Hospital. She was far too ill to travel by road. My husband and I drove to Dublin after her and it was without doubt the worst journey of our entire lives."
Five years on, Kayleigh is thriving.
"Kayleigh has annual appointments in Crumlin Hospital now but luckily she hasn't had to stay there since she was seven months old when she was in for her aorta again. She and Emily are the best of friends.
"They mind each other and they're doing great in school. Their personalities are very different; Emily is quite shy, while Kayleigh is outgoing and confident. I think that's because of her experience in the hospital."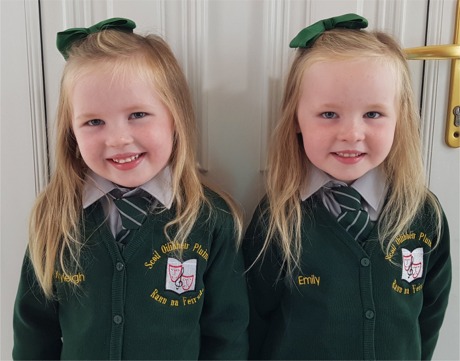 Twin girls Kayleigh and Emily 'are the best of friends'.
Bella recalled the "scariest" time of their lives. "When Kayleigh was in hospital it was the scariest time for our family. We have such a huge amount of respect for Crumlin. My daughter wouldn't be alive without the gifted, exceptional people working there. They're like a family. They take care of you too. Crumlin Hospital is a very special place."
CMRF Crumlin was established in 1965 and is the principal fundraising body for Our Lady's Children's Hospital, Crumlin and the National Children's Research Centre. It fundraises for research into the cause, treatment, care and prevention of children's illness and disease.
Bella Ward urged the public to donate whatever they can afford to www.cmrf.org .