DONEGAL Road Safety Working Group (DRSWG) is once again launching its Safe Cycling Initiative reminding all road users in Inishowen that road safety applies to every one of us – motorists, cyclists, motorcyclists and pedestrians.
Brian O'Donnell, Road Safety Officer with Donegal County Council explains that "all road users are vulnerable and have duties of care to each other. The importance of motorists allowing a 1.5m passing distance when overtaking cyclists cannot be stressed enough and we also need to impress on motorists the vulnerability of cyclists and the need to respect them as road-using equals".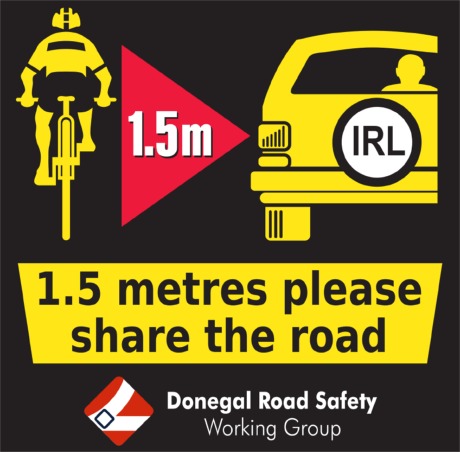 The DRSWG is distributing high viz gilets. To get your gilet email roadsafety@donegalcoco.ie .
Evidence shows that excessive speed is one of the greatest threats on the road and any impact with a cyclist or pedestrian at even 50km an hour carries a 50 per cent death threat. Dealing with that particular vulnerability requires personal visibility and greater traffic awareness by all road users.
The DRSWG is once again in conjunction with Donegal Sports Partnership distributing high viz gilets encouraging as many cyclists as possible wear them.
Brian O'Donnell says "cyclists need to be clearly visible and the distribution of high viz cycling gilets is a step in the right direction to help protect cyclists on the road."
To get a high viz gilets email roadsafety@donegalcoco.ie .