Redcastle man has €23k Winning Streak

04.03.19
INISHOWEN man wins €23,000 on Winning Streak only a month after his cousin made her appearance on the game show.
Pauric Collum from Redcastle, took to the Winning Streak stage just a month after his cousin, Maggie Collum from Falcarragh, won €25,000 on the show. In 2009 Rosie Collum, Maggie's identical twin sister, also won €37,000 on the programme.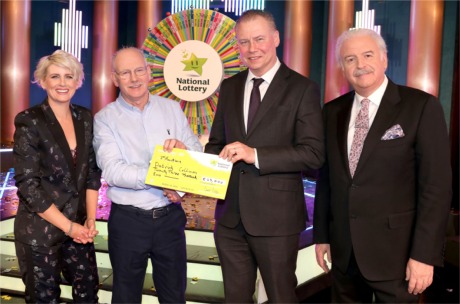 Pictured from left to right: Sinead Kennedy, Winning Streak Co-Host; Patrick Collum, from Redcastle; Dermot Griffin, Chief Executive Officer at the National Lottery and Marty Whelan. The winning ticket was bought from Gala Express in Drung.
Pauric has been married to Agnes for 42 years and the pair have two adult children Aaron and Shauna Michelle. He is a proud grandfather to three grandchildren, John Patrick, Nathaniel and Aaliyah.
Pauric was born in Berwickshire in Scotland and has ten siblings (three sisters and seven brothers). He moved to Donegal to live with his grandmother when he was young and then located to Manchester where he worked for more than 20 years as a HGV truck mechanic. He often visited Inishowen on holidays before moving back to Redcastle in 1987. Now retired Pauric enjoys spending time with his family.