Pride of Place judges visit Greencastle
08.07.19
LAST week judges from the national Pride of Place competition visited four projects which have been nominated by Donegal County Council for this year's finals. The projects are Falcarragh Parish Development, Dungloe Network Development, Greencastle Community Development and Donegal Town Community Chambers.
Judges Donal Connolly and William Beattie visited each of the projects during their two day visit to Donegal.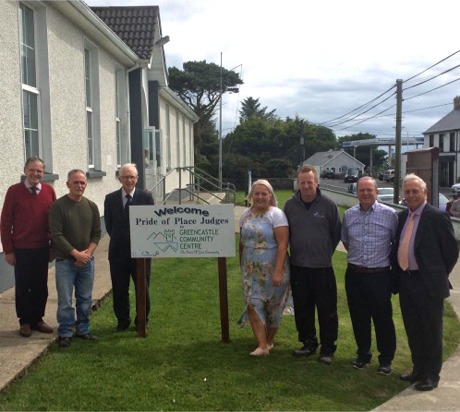 National Pride of Place judges Donal Connolly and William Beattie meeting members of the Greencastle Community Development during their visit to adjudicate for this year's competition.
On Thursday, 4th July, the judges travelled north to the scenic fishing village of Greencastle where they met with the Greencastle Community Development group to find out more about their determined drive to develop their multipurpose community centre for local people.
George McGuinness, group director, began by giving a history of the centre and wowed the judges with the committees determination and dedication to the local community. Susan McAleer, centre manager, proudly gave the judges a tour of the facility and explained the abundance of courses, classes and workshops that the centre provides to the local community.
Volunteer counsellor and Core Care founder, Jacqueline Kelly, also gave the judges an insight to the work that they do within the wider community. The judges were also treated to a choral performance by patients from the Carndonagh Dementia Nursing Home and even enjoyed a dance or two.
Mairead Cranley, Social Inclusion Co-ordinator with Donegal County Council said "We would like to thank all groups for entering the competition. We were overawed with the great work being done all over the county by volunteers. The hard work of each of these committees and groups is what creates that pride of place in a community".
She also thanked all four groups who hosted a visit from the judges for their efforts in welcoming the judges to their own community and wished them well in the competition.