Greencastle in 'Pride of Place' final
22.11.19
STAFF and volunteers from Greencastle Community Centre will be heading off soon to the beautiful medieval city of Kilkenny as finalists of the prestigious IPB Pride of Place Awards, which takes place on Saturday 30th November 2019.
The IPB Pride of Place Awards is a national competition, which started in 2003 and celebrates community group contributions to local society and the creation of civic pride. The competition, run by Co-operation Ireland in conjunction with local authorities, focuses on people coming together to shape, change and enjoy all that is good about their local area.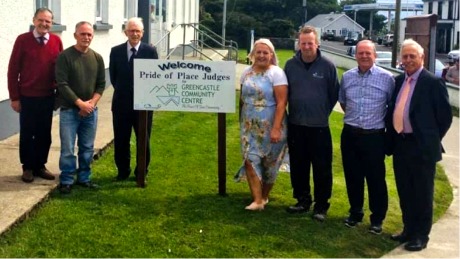 National Pride of Place judges Donal Connolly and William Beattie meeting members of the Greencastle Community Centre in July 2019 during their visit to adjudicate for this year's competition.
Susan McAleer, Manager of Greencastle Community Centre, said it is a fantastic achievement to have been selected as a finalist in this year's competition.
"We're really delighted and excited to be traveling to Kilkenny as a finalist in this year's Pride of Place Awards – which is such a huge achievement for our centre and a great example of how the staff, committee and volunteers have all come together to promote the work we do", she said.
"2019 has been a great year with the introduction of lots of new classes, hobby courses, accredited training and counselling at the centre.
"This year has also seen the introduction and development of our new 'Musical Memories Singing Group' – the first one of its kind in Donegal and arguably the country – which is a wonderful group helping many local people living with Alzheimers. As well as offering support for family members, friends and carers, this hugely popular group has also been commended by specialists in Alzheimer's care – and we're so proud to facilitate the group here in the centre!
"We're also really looking forward to 2020 when we'll be welcoming another full-time tenant to the centre with the opening of a new childcare facility in January (including pre-school & afterschool activities) which will be a fantastic asset for our local community."
For further information on events, activities & courses at Greencastle Community Centre please visit www.greencastlecentre.ie , find them on Facebook or contact Susan McAleer on 074 93 81054 or email susan@greencastlecentre.ie .