Pier tragedy victims remembered three years on
20.03.19
FIVE members of a family who drowned at Buncrana Pier three years ago today (Wednesday) have been remembered at mass this morning.
Sean McGrotty (49), his sons Mark (12) and Evan (8) died along with their grandmother Ruth Daniels (59) and Ms Daniel's daughter Jodie-Lee Daniels (14) in a tragic accident at the Donegal pier on March 20, 2016.
The incident occurred when Mr McGrotty's Audi Q7 vehicle slid off the pier into Lough Swilly at the end of a day-trip to the seaside for the family from Derry city.
The sole survivor of the tragedy was Mr McGrotty's four-month old daughter Rioghnach-Ann who was saved by Kerrykeel man Davitt Walsh (32) who had swum out to help the stricken family.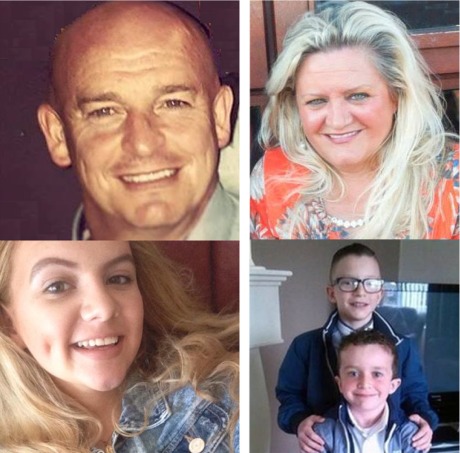 Pier tragedy: Clockwise, Sean McGrotty, Ruth Daniels, Mark and Evan McGrotty, and Jodie Lee Daniels.
Three years on to the day, prayers were offered this morning at Holy Family Church in Ballymagroarty, Derry city, by local parish priest Fr Paddy O'Kane.
"We pray for Sean, Mark and Evan McGrotty, Ruth and Jodie-Lee Daniels whose (third) anniversary occurs today," said the Donegal-born cleric.
"We welcome Evan's class from St Eithne's school, who are here with us today. We ask God to console all those who grieve at the loss of someone they love," he added.
An inquest in November 2017 heard harrowing evidence of how the family became trapped inside the sinking black 4x4.
The inquest also heard that the driver of the vehicle, Mr McGrotty, was three times over the drink-drive limit at the time of the accident.
Jurors were told how the children's mother Louise James was returning from a rare trip away with friends – a hen party in Liverpool – when news of the horror reached her.
A verdict of death by misadventure was returned in the case, with Ms James telling how there were "simply no words capable of expressing my pain, my disbelief, and indeed my anger at what happened on that fateful day".
Meanwhile, various legal actions are being pursued in relation to the "horrible tragedy".