1,400 animals rescued by Donegal charity
10.01.19
Donegal rescue charity Animals in Need rescued a record 1,400 dogs, cats and other animals last year, new figures show.
The figure is a doubling of the number of animals rescued just two years ago when 700 animals were saved.
Creatures rescued in 2018 included 525 cats and kittens; 565 dogs and puppies and 295 feral cats. The dogs were either from the Pound, surrendered family pets or pups born to rescued dogs. The feral cats were all trapped, neutered and returned (TNR) or relocated where necessary.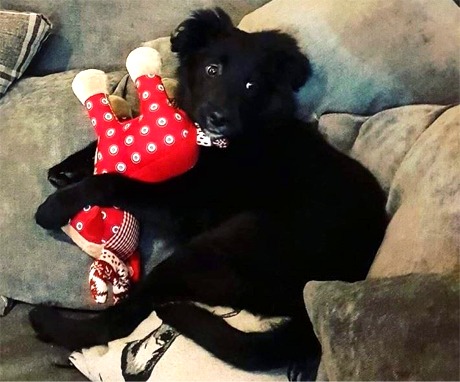 Thanks to Animals in Need, Pound puppies like Cooper (pictured above) got to spend Christmas in their own loving home.
The charity said: "The more unusual rescues included a turtle, a rabbit, a sparrow hawk, four gannets, four guinea pigs, four orphaned Blue Tit chicks, an injured seal, a bearded dragon (rehomed), an albino hedgehog (rehomed) and two ferrets (rehomed).
"Despite the escalating demands on the organisation, the ever-increasing number of animals needing help are still being dealt with by a small dedicated group of unpaid volunteers," the charity added in a statement.
"The bottom line is that people still aren't neutering their animals and there are just too many animals being born with no homes for them to go to.
"Animals in Need would like to thank everyone who has supported the charity over the past 13 years, whether that be as a volunteer, a fosterer, by fundraising, driving the rescue van, working for free in the Animals In Need charity shops, donating or in any other way.
"The animals are already pouring through the doors and in the first week of 2019 we've already rescued nine dogs from the Letterkenny Pound and currently have over 40 dogs and 75 cats in our care," it added.