People in Inishowen urged to get moving

01.03.19
THE Irish Heart Foundation has teamed up with Parkrun in a six-week initiative to get local communities in Donegal moving. People interested in getting active are welcome to attend their free local Parkrun event each week. The Buncrana Parkrun is on every Saturday at 9.30am in Aileach Road.
On Saturday March 2nd, the Irish Heart Foundation is encouraging everyone to join their nearby Parkrun event and walk for both health and leisure. Register for Parkrun at www.parkrun.ie , choose #IrishHearts as your club and print the barcode before turning up to walk with your local community. Parkrun events take place in Aileach Road, Buncrana and St Conals Hospital Campus, Kilmacrennan Road, Letterkenny. They are free, safe and easy to take part in.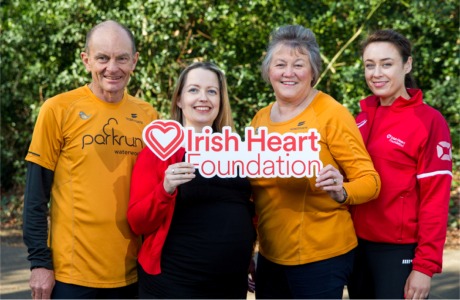 Parkrun events are free, weekly, timed events every Saturday at 9.30am in various locations throughout Ireland. All participants are welcome.
People looking to get active can also take up the Irish Heart Foundation's Move More Walking Challenge; a six-week challenge to allow people achieve physical activity guidelines and walk a 5km route at their own pace with the goal of completing a Parkrun walk. Each week, participants will be encouraged to increase their step count, increase the distance they walk as well as introduce some mobility, stretching and strength exercises. Video demonstrations and heart health information will be shared in the weekly Parkrun e-zine and Parkrun volunteers will be provided with the opportunity for free CPR training.
Matt Shields, Country Manager at Parkrun Ireland said: "By teaming up with the Irish Heart Foundation, we are delighted to get more people walking and assist them with video demonstrations and heart health information along the way. Volunteers will have the opportunity to access free CPR training and help protect the lives of our members."
Regular physical activity can improve your wellbeing as well as reducing your risk of high blood pressure, heart attack and stroke. Make walking part of your life with your local community.