Pan Celtic Festival takes to the streets
26.04.19
THE Pan Celtic Festival will take to the streets of Letterkenny this Friday afternoon, April 26th, with a parade from An Grianán Theatre to the Courtyard Shopping Centre at 2pm. The Pan Celtic Parade will feature marching bands, dancers and musicians from the six Celtic nations, as well as special appearances by Inishowen Carnival Group and Carndonagh Brass Band.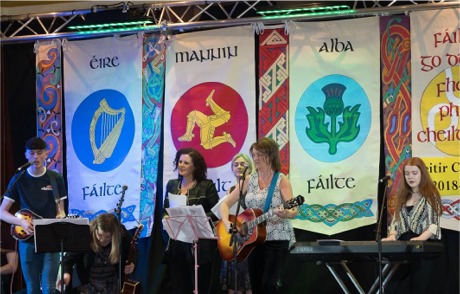 The Opening Night Concert at the Mount Errigal Hotel in Letterkenny.
There was a strong mix of celtic music, song and dance in the Mount Errigal Hotel in Letterkenny on Tuesday night as the 48th International Pan Celtic Festival got off to a colourful start with a special Opening Night Concert. Old friends were reconnected and new friends became acquainted as the large audience enjoyed entertainment from each of the six Celtic nations – Ireland, Scotland, Brittany, Wales, Cornwall and the Isle of Man.
The festival will run until Sunday and boasts a packed programme of themed concerts, music, song and dance workshops and competitions, talks, storytelling sessions, Celtic language workshops, street pageantry, spectacle and drama, featuring over 300 performers.
In order to encourage as many people as possible to enjoy the event, the Pan Celtic Festival organisers are offering special €10 all day tickets. Tickets are available now at An Grianán Theatre Box Office on 074 91 20779.
Among the most popular elements of last year's festival programme were the special Festival Club variety concerts hosted by the individual visiting Celtic nation groups. Friday, April 26th is Wales Night and is a must see for choral music lovers, while on Saturday, April 27th, it's the turn of the Scots.
Details of further events are all to be found in the festival programme, which may be downloaded from www.panceltic.ie .