The International Pan Celtic Festival returns to Letterkenny
08.04.19
LETTERKENNY is set to be the centre of Celtic music, song, language and dance later this month as the 48th International Pan Celtic Festival gets underway.
The festival which will take place from 23rd to 28th April will bring together the Celtic nations of Ireland, Wales, Scotland, Brittany, Cornwall and the Isle of Man for what promises to be another unique celebration of the Celtic culture bearing witness to majestic displays of Celtic dancing, pipe band performances, choral performances and even Celtic rock and pop music in all of the Celtic languages.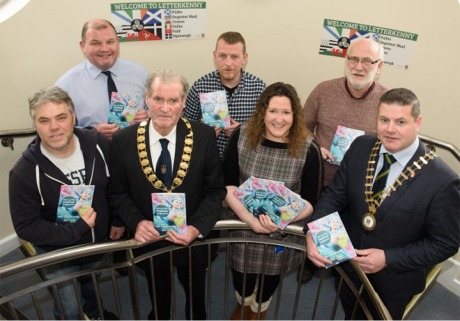 Pictured at the unveiling the 48th International Pan Celtic Festival Programme in An Grianan Theatre on Friday, 5 April are Cllr. Ian McGarvey, Mayor of Letterkenny MD, Christina O'Donnell, Donegal County Council and Cllr. Seamus O'Domhnaill Cathaoirleach of Donegal County Council.
The festival programme sets out details on what's on over the course of the festival. There will be many highlights during the week but one of the most colourful will be the carnival street parade in Letterkenny on Friday 26 April. Other highlights include the concert showcase from the Celtic countries during the official opening in the Mount Errigal Hotel on Tuesday 23 April, the International Song Contest in An Grianan Theatre on Thursday 25 April and the Choral Concert on Friday 26 April.
Pick up a copy of the festival programme in many outlets in Letterkenny including the Tourist Information Office, An Grianan Theatre, Council Office and the library. It is also available online at www.panceltic.ie .