Plans to build wastewater treatment plant in Moville
31.07.19
AT present Moville has no municipal wastewater treatment facilities and the discharge of untreated wastewater into the Bredagh River has seen it classified as being 'seriously polluted' by the Environmental Protection Agency.
Untreated wastewater from Moville is currently being discharged at five locations polluting the beaches and coastline. The equivalent of approximately 2,800 wheelie bins of untreated wastewater are currently being discharged into Lough Foyle and the Bredagh River every day.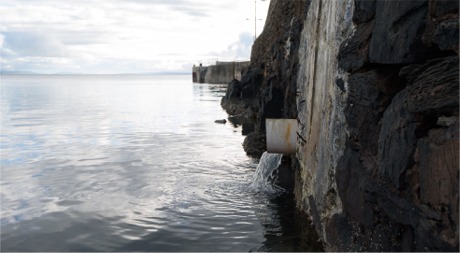 Raw sewage is currently being discharged, at Moville, into Lough Foyle polluting the beaches and coastline.
Irish Water is progressing plans to build a new wastewater treatment plant in Moville. The project to deliver the new plant and collection system is in the design and pre-planning stage. Irish Water is currently undertaking on-the-ground investigations and engaging with landowners and the local community.
Mobilisation is underway for geotechnical site investigation works which will commence this week. Once investigations and detailed design are complete Irish Water expect to submit a planning application by the end of 2019 to the planning authority for their consideration.
Detailed design and construction will take approximately four years and will be completed by 2022, subject to statutory approvals.