Wastewater treatment plans for Moville
15.05.19
Untreated wastewater from Moville is currently being discharged into the Bredagh River and Lough Foyle at five locations polluting the beaches and coastline.
The equivalent of approximately 2,800 wheelie bins of untreated wastewater is currently being discharged into Lough Foyle and the Bredagh River every day and Irish Water plans to build a wastewater treatment plant in Moville to ensure that untreated wastewater is no longer discharged in the river and lough.
At present Moville has no municipal wastewater treatment facilities and the discharge of untreated wastewater into the Bredagh River has seen it classified as being 'seriously polluted' by the Environmental Protection Agency.
Irish Water had a meeting yesterday with the Donegal Oireachtas members where they discussed the utility's plans to develop much-needed wastewater infrastructure in Moville.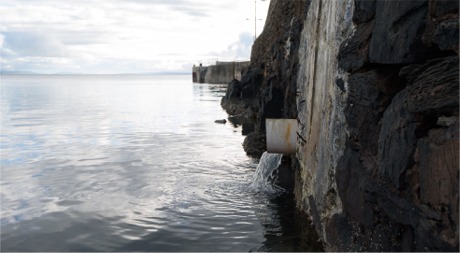 Raw sewage is currently being discharged, at Moville, into Lough Foyle polluting the beaches and coastline.
The new plant will facilitate the decommissioning of more than 15 temporary treatment plants in housing developments in Moville and allow for applications to be made to connect them to the public sewer. It will stop ongoing pollution at local beaches and ensure compliance with national and EU regulations relating to the treatment and discharge of wastewater.
Concerns raised by the Oireachtas members, Deputy McConalogue and Senator MacLochlainn, at yesterday's meeting included the location of the outfall pipe and the issue of odours.
Both Oireachtas members expressed their disappointment at Greencastle not being included in the current scope of the project. Irish Water advised that Moville is currently one of the highest priority schemes for Irish water due to the ongoing discharge of untreated wastewater from the public sewerage system. The current design will however enable the connection of Greencastle at a future date.
Speaking following the meeting, Colm Claffey, Irish Water said: "Irish Water will continue to engage with the local community over the course of the project's development... We look forward to meeting with the local elected representatives and others next month."
Further information about this proposed scheme is available on Irish Water's website www.water.ie/moville .