MICA Redress Scheme update
19.07.19
THE decision by government to establish a redress scheme for private houses affected by MICA was a welcome development. Since the announcement affected homeowners have been contacting Donegal County Council enquiring about details of the proposed grant scheme and when applications can be made to the Council under the scheme.
Against this background, council officials have had a number of meetings with officials in the Department of Housing, Planning and Local Government. The Department has indicated that details of the scheme are currently being developed, including enabling regulations in conjunction with the Department of Public Expenditure & Reform, which will require government approval. It is expected that the scheme will open for applications in the autumn.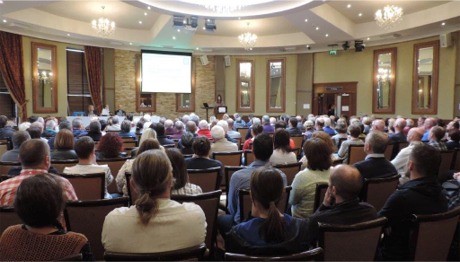 Photo showing large attendance at previous Mica information event.
The Mica Action Group (MAG) are holding a public meeting on Wednesday, July 24th, from 8pm - 9pm in An Grianan Hotel, Burt.
MAG is a voluntary group formed in early 2014 by individuals whose own homes are cracking due to defective blocks.
Ann Owens Chairperson on the Mica Action Group said: "A panel of key stakeholders including MAG, Damien McKay and councillors; Martin Mc Dermott, Bernard McGuiness, Albert Doherty and Martin Farren who are all members of the Donegal County Council mica steering group, will be available in a question and answer session where questions will be taken from the audience. The information evening is open to everyone."