Buncrana tops list of areas affected by Mica
29.03.19
Buncrana has topped the list of areas affected by defective Mica blocks in the county in a recent analysis of registrations by the Mica Action Group (MAG).
The Mica Action Group is a voluntary group formed in early 2014 by individuals whose own homes are cracking due to defective blocks. The objective of the group is to seek redress for homeowners affected by this issue.
Ann Owens, MAG chairperson said: "MAG recently analysed the nearly 1200 registrations which have been made through our facebook page or via our website and found that Buncrana (including Fahan) tops the list of areas affected by defective blocks in the construction of their homes, with 185 homes registered since we started asking homeowners to come forward.
"Interestingly, Letterkenny has now moved into second place with 154 homeowners having registered. This figure is a significant increase in the number of homeowners coming forward in the Letterkenny area in the last few years. It was not that long ago we were told that this issue was primarily confined to the Inishowen area, these latest figures indicate that this issue affects a much wider area as we have always suggested.
"In addition to Buncrana and Letterkenny, findings show that the greater Malin area (inclusive of Malin Head) has 128 registrations, followed by Carndonagh (115), Clonmany (83) and Culdaff (43)."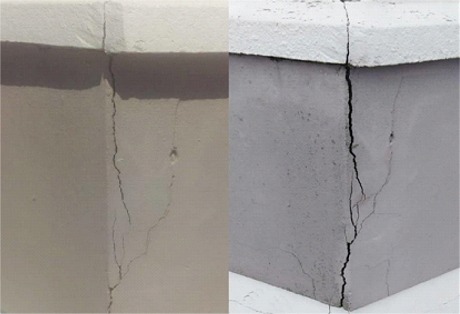 These photographs of defective Mica blocks, from an Inishowen homeowner, show significant deterioration in only one year.
Ann continued "At times like this we need to sit back and consider that in a small town such as Buncrana for example - 185 family's homes, the one place they are supposed to be able to get sanctuary, are showing signs of being affected, showing signs of failure, with the risk of collapse. That is 185 families who wait week on week to find out when the Government is going to step in to help them.
"Once again, we ask and implore the Government to move on this issue immediately. At this stage we cannot accept another delay. We cannot afford to wait any longer. Homes are deteriorating at a significant rate, faster than we have seen before and we are truly fearful of what might happen if we don't see this scheme gain approval at Cabinet and roll out soon."
"Let us not wait until it is too late."