Carrowmenagh to host McFeeley family reunion
24.07.19
BACK in 2009, an American tourist described the thrill of finding the roots of his family tree in Inishowen thanks to a book by local Carrowmenagh historian John A McLaughlin. Dan McFeeley from Illinois, started researching his Irish roots nearly thirteen years ago but only knew that his paternal great grandfather, Michael McFeeley, hailed from Co Donegal.
He was stunned when he came across an extract from the book 'Carrowmenagh: History of a Donegal Village and Townland', penned by John A. The extract told of the evictions of 1881 and mentioned the McFeeley family name.
"Scrolling down the page I saw at the top of the list, two of the evictee families, Charles McFeeley and John McFeeley, and realised that this was likely the village where my great grandfather Michael came from," explained Dan.
Ten years ago, Dan visited Carrowmenagh with his daughter Rachel. To read more about their visit to Inishowen in 2009 read our previous story - US visitor finds his Inishowen roots .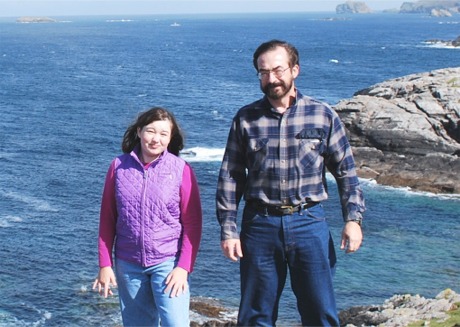 Dan McFeeley visited Carrowmenagh with his daughter Rachel back in 2009
Between July 27 and August 4th 2019 there will be a McFeeley family reunion taking place in the Moville / Carrowmenagh area. Approximately 43 descendants of the McFeeley families of Carrowmenagh are coming to Inishowen from the United States.
Mary McCann Stone, Dan McFeeley's cousin, has organised the reunion along with the help of Anthony McGonigle and locals from Carrowmenagh village.
On Sunday, July 28th, there will a meet and greet at the Carrowmenagh Community Centre where tour group members will make contact and get to know each other. The McFeeley clan are coming from different parts of the US and although many of them have conversed online, they have not met in person. After the meet and greet, activities will continue in the Tremone Bar.
The McFeeley family group will be touring the peninsula during their stay and learning about the history of their descendants, Carrowmenagh villagers, who found themselves having to leave after the harsh evictions in 1881.