May the 4th be with Malin Head
17.04.19
THE programme of events for the 'May the 4th Be With You' festival were unveiled by Fáilte Ireland on Monday. The festival runs from 3rd – 5th May 2019 and includes Malin Head for the first time. May the 4th is the day when fans across the globe commemorate the Star Wars Universe.
Minister of State for Tourism and Sport, Brendan Griffin said: "Following the success of the inaugural 'May the 4th Be With You' festival in Kerry in May 2018, Fáilte Ireland has worked with local communities across the Inishowen peninsula to extend the festival to Donegal this year."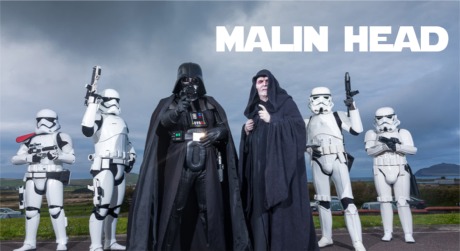 To view the full programme of events click here
With events happening across Inishowen there is plenty of family fun for all ages, including:
• Star Gazing at the Planetarium
• Filmed Orchestra & Fireworks Display
• Death Star Footie Skills Target Practice
• Blaster Tag & other Intergalactic Fun & Games
• Jedi Cadets Academy (under 8yrs)
Speaking about the addition of Inishowen as a location for this year's festival, Minister for Education and Skills, Joe McHugh said: "The decision by the makers of Star Wars to choose Donegal, and Malin Head in particular, was inspired. This is a great opportunity for fans to be on the site of some of the most stunning scenes in the movie and to sample the best of what the Wild Atlantic Way has to offer."
Heidi Doherty, Programme Manager at Inishowen Tourist Office, added: "The 'May the 4th Be With You' festival is a wonderful way to celebrate the Star Wars filming location at Malin Head and it promises to be an action packed weekend. Today (Monday, April 15th) we not only announced the programme of activity, we officially cut the ribbon on the newly renamed road 'R2D2', formerly the R242."
For the full programme of events for the 'May the 4th Be With You' festival in Malin Head, please visit WildAtlanticWay.com .