Malin receives Clean & Green Award
03.04.19
MALIN, along with four other Tidy Town Committees, received a Clean & Green Award from Donegal County Council at a special event in the County House in Lifford on Monday.
These awards are aimed at recognising groups that have achieved high scores in the following three categories of the National Tidy Towns competition: Tidiness & Litter Control; Approach Roads, Streets and Lanes and Sustainability - doing more with less.
Malin, along with Doochary, Donegal Town, Carraig Airt and Castlefinn Tidy Town Committees, received an award of €500 as they came out tops in these categories in the national competition for their own municipal district.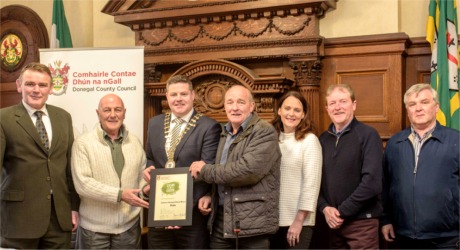 Brian Watson and Hugh McColgan from Malin Tidy Towns Committee receiving a Clean and Green Award worth €500 from Donegal County Council Cathaoirleach Cllr. Seamus O'Domhnaill. Picture also includes Cllr. Niamh Kennedy, Cllr. Noel Jordan, Cllr. Gerry Crawford and Michael McGarvey, Donegal County Council.
Speaking at the presentation of these awards Cathaoirleach Cllr. Seamus O'Domhnaill congratulated all the groups on the great work that they do in their own towns and villages: "The work that you do is a credit to each and every one of you and to the other volunteers in your community. You are making a massive contribution to your communities and you are keeping Donegal cleaner, greener and much more environmentally aware. I think we are winning the battle and I would urge you all to keep up the good work – the future is green."
Michael McGarvey, Director of Water and Environment with the Council said "the Tidy Towns initiative has such a positive impact on the local community and we are keen to support groups that instil such positivity in their local community and their local environment".