THE Central Library Letterkenny has launched a new exciting service as part of its Bealtaine Festival Celebrations.
The newly installed Magic Table is designed specifically for adults with dementia and intellectual disabilities to take part in physical activity and social interactions.
The Magic Table consists of a projector that is mounted on the ceiling above an ordinary table in the library. The unit projects a series of simple interactive games which motivate the mind and inspire those living with dementia and additional needs to interact with their families and carers.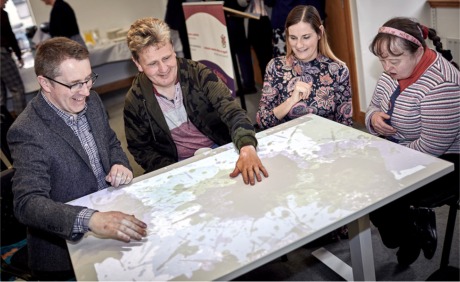 Rory Gallagher, Donegal Library Service, Nigel Porter, Noelle Sandiands, Donegal Library Service and Mary T. O'Hara getting to grips with the new Magic Table in the Central Library in Letterkenny.
Noelle Sandilands of the Central Library said "Communication contributes to everyone's health and quality of life and in particular for those with dementia or additional needs. The Magic Table aids inclusion for everyone in the community".
Research has also shown that the Magic Table can help children with autism to play together and can create a common focus.
The Magic Table is provided free of charge and to find out more about this technology, individuals or organisations are invited to contact the Central Library by phoning 074 91 24950.