Mica redress scheme public meeting
12.07.19
THE Mica Action Group (MAG) are holding the first public meeting since the announcement in October last year of the Mica redress scheme for homeowners in counties Donegal and Mayo. This meeting will be held on Wednesday July 24th 2019 from 8pm - 9pm in An Grianan Hotel, Burt.
MAG is a voluntary group formed in early 2014 by individuals whose own homes are cracking due to defective blocks. The objective of the group is to seek redress for homeowners affected by this issue.
Ann Owens Chairperson on the Mica Action Group said: "Since the announcement in October 2018 that the government will support rollout of a redress scheme to fix the homes affected by defective blocks, homeowners have waited patiently for more information. The Mica Action Group have continued to engage with Government officials at both national and local level to request further clarity and to stress the importance of launching this scheme without further delay. There has been progress in the form of Cabinet approval in May 2019 through significant support from Minister Joe McHugh's office – which was a huge step forward in illustrating Government commitment to the issue. However, aside from being told that the scheme will be administered by Donegal County Council (DCC), information on the scheme and how homeowners can apply for this redress has not been officially released and MAG and all affected homeowners are getting increasingly frustrated at the stalemate."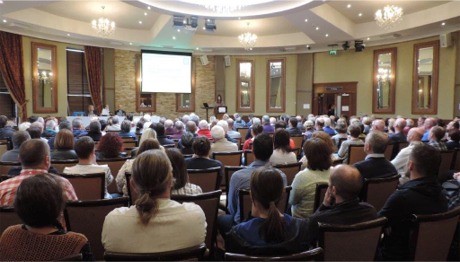 Photo showing large attendance at previous Mica information event.
"Therefore MAG are hosting this information evening in order to provide homeowners with as much information as we can at present. We have also asked a number of people who are instrumental in rolling out this scheme to attend and to speak at the event. Damien Mc Kay, Consulting Engineer from Letterkenny is one of these key speakers. Damien was one of the first people who raised this issue in late 2013 after seeing a pattern of unusual cracking in more and more homes across the county.
"Councillor Martin McDermott will also speak on the evening. Martin is a member of the newly formed mica steering group at Donegal County Council. This mica steering group will become more and more important over the coming months and years due to DCC's key role in the scheme's implementation. Martin will give an update on where DCC are with regard to the scheme.
"Finally, a panel of key stakeholders including MAG, Damien McKay and Councillors; Martin Mc Dermott, Bernard McGuiness, Albert Doherty and Martin Farren who are all members of the DCC mica steering group, will be available in a question and answer session where questions will be taken from the audience. The information evening is open to everyone. This event will be followed by a (members only) AGM from 9pm - 10pm. We would hope that these events will get a large turnout and will hopefully answer some key questions for affected homeowners on what to do next.
"It is time for some real action and to see this scheme prioritised by all those tasked with its rollout. In the meantime people are still living in fear. We need to see those in the most urgent need prioritised now without any further delay."