SWELL aims to improve water quality
26.06.19
A MAJOR cross-border project which aims to improve water quality in Lough Foyle through enhanced wastewater treatment was officially launched yesterday in Derry.
The Shared Waters Enhancement & Loughs Legacy (SWELL) project, which has been awarded €35m, under the EU's INTERREG VA Programme, will see the construction of new wastewater treatment works as well as upgrades to sewerage networks on both sides of the border to address wastewater pollution in Lough Foyle and Carlingford Lough.
The four-year project will culminate in the development of a unique environmental legacy model that can be used to achieve further improvements in water quality in these shared waters.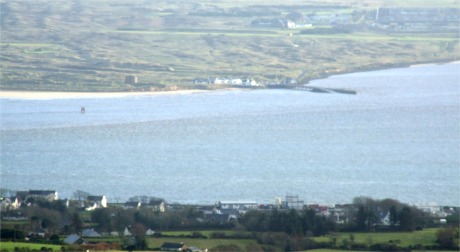 The mouth of Lough Foyle where Greencastle in Co Donegal is adjacent to Magilligan Point in Northern Ireland.
Paul Harper, Director of Asset Delivery at NI Water, said: "The project provides a welcome opportunity for both water utilities to work collaboratively to prioritise and align projects in a coordinated way so as to make maximum positive impact on the shared waterbodies on the island of Ireland."
Through extensive investigations and use of innovative modelling techniques, the SWELL ecosystem model will be able to track the pathways of nutrients and contaminants of wastewater, industrial or agricultural sources to determine their impact on the receiving waters. This legacy model will assist the water utilities and regulatory bodies on both sides of the border by identifying best approaches to achieving further improvement of overall water quality in the future.