Raphoe has its third big Lotto win of the year!
02.04.19
ODHRAN Doherty (23), from the Glebe in Letterkenny, came forward yesterday as the holder of Saturday night's Lotto Plus1 winning ticket worth a cool €1,000,000. He celebrated at the shop that sold him the winning ticket, Barclay's of The Diamond in Raphoe.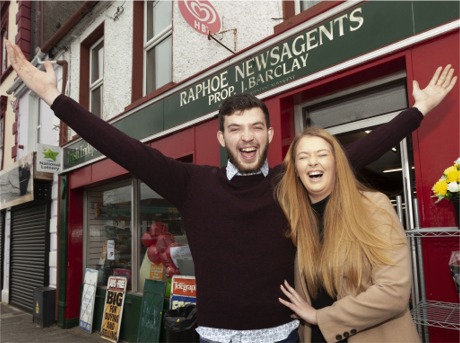 Odhran Doherty pictured with his girlfriend Jessica Orr at Barclay's shop in Raphoe.
The win was the third big National Lottery win of the year for the small border town. Not only did Barclay's sell Saturday's Lotto Plus1 ticket to Odhran but it also sold a winning EuroMillions Plus ticket worth €500,000 in February. In an incredible run of luck, the Centra Store in Raphoe also sold the winning Match 5 Plus Bonus winning ticket from the Lotto draw on February 28th, nabbing that ticket holder a cool €98,068.
Odhran is travelling to Dublin with family today (Tuesday) to claim his one million euro prize at Lotto HQ.
The owner of the Barclay's of The Diamond, Jimmy Barclay, said he was delighted that his shop had sold another big Lotto winning ticket, "There is great excitement in the town. We are delighted for the winner!"
A National Lottery spokesperson said: "What are the odds! Three big wins in a few months in a small town. What a great day it is for Barclay's newsagents. We are thrilled for the locals in Raphoe and urge everybody to check their tickets to see if they are Ireland's newest Lotto millionaire."