Donegal sheep farmer scoops €76,000

28.05.18
A DONEGAL sheep farmer got to spin the Winning Streak wheel and won a total of €76,000 when he appeared on the TV game show last Saturday, 25th May.
John Heaney, originally from Co. Down, but living in Carrigans for the past 18 years won €35,000 on the iconic 'spin the wheel'. Add this to the €38,000 in cash, a holiday to Slovenia worth €3,000 and this brought his winnings from the show up to a total of €76,000.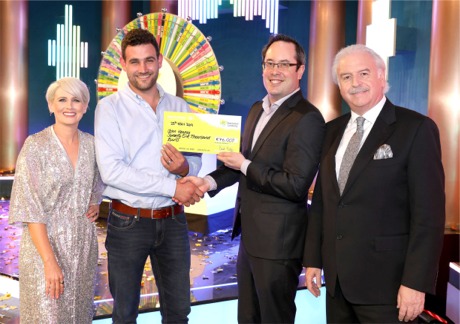 Pictured here at the presentation of the winners cheques were from left to right:, Sinead Kennedy Winning Streak game show co-host; John Heaney the winning player; Brett Cross, Head of Technology at the National Lottery and Marty Whelan.
John had only walked in the door for a quick break from work two Thursday's ago when a knock came to the door. It was a neighbour asking if it was John who got pulled out for Winning Streak on RTÉ. John put on the TV and took an extended break until the end of the show when his full name and address was revealed. He was stunned and delighted at the same time as he completely forgot that he had a ticket.
John's partner Rhonda was there to cheer him on from the RTE audience alongside other friends and family.
John was also supported by his mum Marie, his sister Margaret and three brothers: Tommy, Peter and Shane. His other brother James watched the show online from London. John has Rhonda to thank for his Winning Streak appearance as she was the one who sent his ticket in for him. He has no plans for any winnings just yet but will be sure to enjoy his haul of €76,000.