Donegal family is on a Winning Streak

28.02.19
A Redcastle man is to appear on the National Lottery TV game show, Winning Streak, just four weeks after his cousin won €25,000 on the RTE show.
Pauric Collum from Redcastle will take to the Winning Streak stage just a month after his cousin, Maggie Collum, from Falcarragh, won €25,000 on the show. In 2009 Rosie Collum, Maggie's identical twin sister, also won €37,000 on the programme. The Collum family really is on a Winning Streak!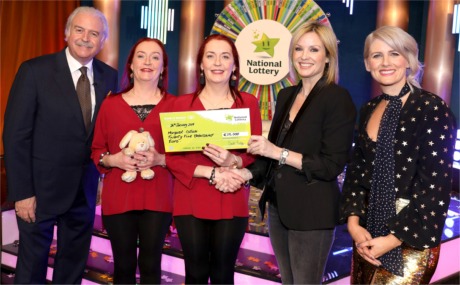 Pictured left to right: Marty Whelan; Rossie Collum who won €37,000 in 2009, Margaret Collum, Rosie's twin sister, who won €25,000 just a month ago; Orla Byrne and Sinead Kennedy, Winning Streak game show co-host.
Pauric was told by a neighbour he had been selected to appear on the popular game show when he arrived home from mass on Saturday evening. Pauric was initially shocked but came round soon after and stated that his phone never stopped ringing until midnight.
Pauric has been married to Agnes for 42 years and the pair have two adult children; son, Aaron and daughter, Shauna Michelle. He is a proud grandfather to three grandchildren, John Patrick, Nathaniel and Aaliyah.
Pauric comes from a large family himself. Born in Berwickshire in Scotland, he had ten siblings (three sisters and seven brothers). He moved to Donegal to live with his grandmother when he was young and a few years later moved back to the UK and lived and worked in Manchester for more than 20 years as a HGV truck mechanic. He visited Donegal on holidays before moving back to Redcastle in 1987.
Now retired he has a lot more time to spend with his wife and family and lives in a beautiful location on the banks of Lough Foyle. Pauric has no plans for his winnings from the show as he hasn't given it a second thought. He is just looking forward to the experience of walking in his cousin's footsteps!