Donegal man wins €45,000 on Winning Streak

19.02.19
A DONEGAL man who could barely get over his shock of getting selected to appear on Winning Streak has won himself a cool €45,000 on the TV game show last Saturday, February 16.
Gerard Muldoon from Killygordon scooped €20,000 in cash and an electric car worth €25,000.
He commented that the news of getting on the show was "like a tidal wave crashing over him" and he described the amazing feeling as he watched his name being drawn from the Winning Streak drum by show presenters Marty Whelan and Sinead Kennedy two weeks ago.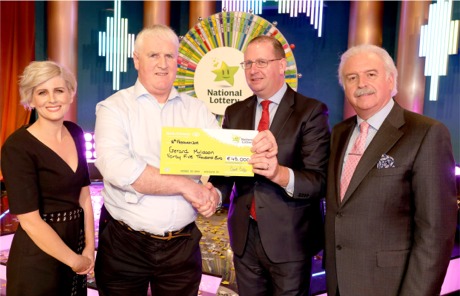 Pictured from left to right: Sinead Kennedy, Winning Streak Co-Host, Gerard Muldoon, Niall Andrews, Head of Sales at the National Lottery and Marty Whelan, game show co-host.
A GAA fan, Gerard had just switched over from watching the Dublin versus Kerry football match in time to watch Winning Streak – a Saturday evening ritual for him. "As much as you think you can be ready to hear your name called out, you can't actually prepare for it" the delighted Donegal man quipped!
Gerard follows Donegal in football and is a big fan of his two local GAA clubs Setanta Hurling Club and Red Hughs GAA football club.