Volunteers needed for Daffodil Centre
13.02.19
THE Irish Cancer Society is looking for new volunteers to help out at its Daffodil Centre in Letterkenny University Hospital. The Daffodil Centre is a walk-in cancer information centre for cancer patients, their families and anyone concerned about cancer.
The centre, which offers cancer information and support, is located on-site in the hospital. It is run by Irish Cancer Society specialist cancer nurses and trained volunteers.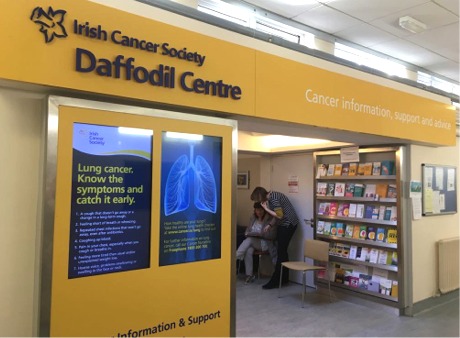 The Daffodil Centre at Letterkenny University Hospital.
Speaking about the recruitment, Deirdre Murphy from the Irish Cancer Society said, "Our Daffodil Centres are often a first stop for many cancer patients and their families and are a really important resource for reliable, trustworthy information and support."
"All Daffodil Centres are staffed by a trained nurse but are also dependent on trained volunteers who are often the first contact that many cancer patients will have in the hospital. It is a vital role and we are really looking forward to adding to our fantastic team of volunteers.
Our volunteers are asked to commit to a morning or afternoon (four hours) once a week and following successful interviews, they are required to attend four days of training," she added.
For more information or to apply to become a trained Daffodil Centre volunteer, please contact Deirdre Murphy, Survivor Support and Volunteer Coordinator, Irish Cancer Society, 43/45 Northumberland Rd, Dublin 4 on 01 2310 564 or email dmurphy@irishcancer.ie .
Daffodil Day takes place on March 22nd. Members of the public are urged to get involved and help raise crucial funds for lifesaving cancer research and free support services for cancer patients. Visit www.cancer.ie to volunteer or donate.