Donegal grandmother goes on a €28k Winning Streak

25.02.19
A DONEGAL grandmother scooped a tidy €28,000 on the Winning Streak TV game show on RTÉ last Saturday, 23rd February.
Teresa Shiels, from Letterkenny, revealed during the show how Winning Streak fever well and truly hit Letterkenny last week when it emerged she was to make an appearance.
Watching the programme on the night her name was drawn from the drum, she barely flinched when she saw her name come out as there are a few Teresa Shiels in Letterkenny. She calmly waited until the end credits of the show and for the full address to be revealed.
Teresa works as a receptionist for Ballyraine Park Health Centre in Letterkenny and her favourite pastime is walking. She hasn't made any plans for her win just yet and will wait for dust to settle after her TV appearance.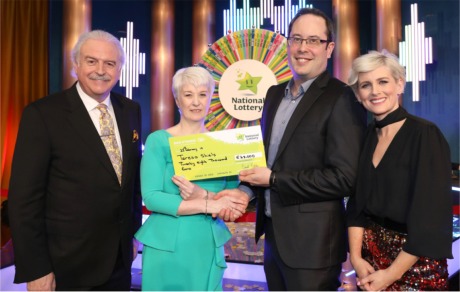 Pictured left to right: Winning Streak game show co-host; Marty Whelan, Teresa Shiels, the winning player; Brett Cross, Head of Technology at the National lottery and Sinead Kennedy, Winning Streak Game Show co-host. The winning ticket was bought from Spar, Glenser Shopping Centre, Circular Road, Letterkenny.
Lottery fever continues to grip the country as someone in Ireland woke up on Sunday morning a whopping €10,288,699 richer after hitting it lucky on Saturday night's mega Lotto Draw.
The sky high jackpot win comes the same week a large family syndicate from North Dublin scooped a mind-blowing €175 million on the EuroMillions game.
The National Lottery appealed to all of its players across the country to check their tickets to see if they have become the 21st Lotto player in the history of Lotto to win over €10 million.
The winning numbers are: 3, 19, 21, 29, 31, 35 and bonus number is 22.
A National Lottery spokesperson said it hopes to reveal the name of the winning store soon. "With a jackpot win of this amount we need a little time to inform the shop owner and to give the winner time and space to let this huge win sink in."
This morning National Lottery CEO, Dermot Griffin, said "This has been an extraordinary week in the 32 year life of the National Lottery. We had our highest ever jackpot prize win with a family syndicate winning an incredible €175 million on EuroMillions. Now, just days later, we have a lucky Lotto player who has won this amazing €10.2 million prize."