Special Recognition Award for Donegal Council
15.02.19
DONEGAL County Council was honoured on Saturday night last with a Special Recognition Award for their response to the major flood event in Inishowen.
The flooding took place on Tuesday 22nd August 2017 when an unprecedented rainfall event occured which caused severe flooding and major disruption to local communities. The rainfall levels subsequently recorded at Malin Head and Carndonagh were exceptional, even exceeding the RED level warning alert on Met Éireann's weather severity classification. The event has been characterised as a one in a 100-year flood event.
The Award was presented at the 2019 Community and Council Awards in Croke Park which are presented by IPB and LAMA, the Local Authority Members Association and hosted by RTÉs sports commentator Marty Morrissey.
"We are delighted to receive this special recognition award which acknowledges the outstanding response of our own staff, management and of course elected members to the devastating floods in Inishowen in August 2017" said John McLaughlin, Director of Service in Donegal County Council and Manager of Inishowen Municipal District.
He added "on receiving this award, it is important to acknowledge the tremendous co-operation and assistance we received from various organisations and Government Departments. The generosity shown by, not only the community of Inishowen, but also by people from across the country and from our diaspora especially in the US, was outstanding."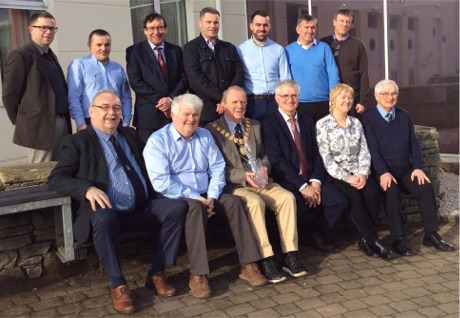 Members of Inishowen Municipal District with Donegal County Council staff who received the Special Recognition Award. Photo includes standing Seamus Hopkins, Cllr. Martin McDermott, Cllr. Albert Doherty, Cllr. Jack Murray, Cllr. Paul Canning, Frank Sweeney, Cllr. Mickey Doherty, Cllr. Nicholas Crossan, Cllr. Martin Farren, John McLaughlin, Cllr. Rena Donaghey and Cllr. Bernard McGuinness.
Donegal County Council led the multi-agency flood emergency response to ensure that the affected communities were able to return to their daily lives as quickly as possible.
Over 200 hundred homes were flooded and their contents destroyed. These homes were in multiple locations across Inishowen but principally in and around Burnfoot, Buncrana and Carndonagh areas. Around fifty families were displaced long-term from their homes, rendering them homeless in the immediate aftermath of the incident. A dedicated helpline was set up and managed by the Council's Housing Service based in Carndonagh Public Services Centre in order to deal with families requiring assistance including emergency accommodation.
An outreach centre was also opened in Buncrana GAA Club where people could access the services from a range of agencies including the Department of Social Protection, the Irish Red Cross, the Samaritans and a professional counselling service.
The damage to the road network was extensive, with many bridges and culverts damaged or destroyed. Five main regional roads had to be closed due to bridge collapses. Landslides, surface damage and road edge collapse also contributed to the overwhelming destruction. It was estimated that over 600 roads were either damaged or destroyed in the flood.
John McLaughlin believes that being recognised with a Community and Council Award is a great honour saying "this award acknowledges the work done by our team in Donegal County Council and recognises their dedication and tireless work during what was a very difficult time for all involved. I believe that the response by Donegal County Council to this incident, and the follow up actions in the aftermath, was an example of public service of the highest order."