Public urged to vote for Donegal Food Coast
22.07.19
DONEGAL'S ongoing food revolution aimed at making the county famous for food, received a tremendous boost this week with the news that Donegal Food Coast initiative has been short-listed as a finalist for Foodie Destinations 2019.
The Foodie Destinations awards are run by the Restaurants Association of Ireland, with the aim of finding the ultimate foodie destination in Ireland.
Head of Enterprise in Donegal, Michael Tunney, said it was fantastic to have Donegal in the short-listed finalists and he urged the people of the county to get behind the project in the public vote.
"The Food Coast – Donegal's Good Food Initiative - was developed by Local Enterprise Office Donegal as a programme to support development, growth and quality in Donegal's food sector.
In a short space of time, it has become a central platform for establishing Donegal as a "Food County" – a place with a vibrant food culture and food economy and that's something we are determined to expand upon," he said.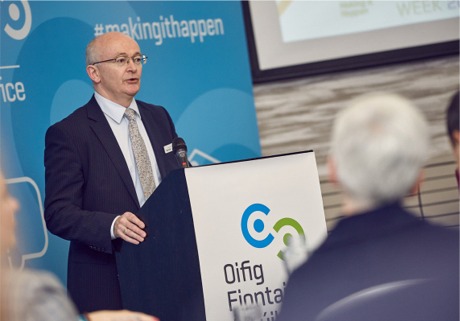 Head of Enterprise in Donegal, Michael Tunney urges people to vote for Donegal Food Coast at www.foodiedestinations.ie .
Mr Tunney explained that since the launch of the Donegal Food Strategy in 2012, Food Coast Donegal has worked collectively with interested food sector professionals to develop the county's base of food producers and allow the chefs and restaurants to have a wider pool of local ingredients to choose from.
"There is a new confidence growing in our local food sector and with the awareness of the Wild Atlantic Way, more people are looking to Donegal as a new place to explore and discover," he suggested.
Indeed, only recently, the county launched its 2019 list of Donegal's Food Coast Experiences.
"Food plays an intrinsic role in the visitor experience and the series of food events we have in Donegal this year, offer a wide range of extraordinary experiences celebrating Donegal food and its champions," he said.
Add to that the county's growing array of nationally and internationally recognised chefs, as well as national and international successes and the Head of Enterprise suggests the fruits of the work being done by Food Coast Donegal is really starting to pay off.
The public will be able to vote for their favourite destination from noon on Wednesday 24th of July until noon on Tuesday 20th of August. They can do this through www.foodiedestinations.ie .