Inishowen urged to support Daffodil Day
11.03.19
THE Donegal Daffodil Day committee have appealed for the public's support as they prepare to take to the streets on March 22nd to raise crucial funds for cancer patients.
On average, 1,050 people in Donegal are diagnosed with cancer annually. The Irish Cancer Society's Daffodil Day funds crucial support services for people affected by cancer and lifesaving cancer research. Members of the public can volunteer to sell daffodils on the day or simply buy a daffodil from local volunteers or their local Boots store.
Last year 51 terminally ill cancer patients in Donegal received 196 nights of care, allowing them to remain at home during their final days. In order to provide the night nursing service and other free supports, the Irish Cancer Society needs to raise over €4m nationally on Daffodil Day this year.
Local night nurse Sharon O'Connell talks about the role she plays in supporting patients during their final days, "When I go into a family home, I am there to support the patient and also their family members. I do my best to create a supportive and calm atmosphere at a very difficult time. Losing a loved one to cancer is heart breaking. But I'm privileged to hear afterwards from many families what a source of comfort it was to spend those precious final moments at home with their loved one. When I finish my night shift, I go home knowing I have made a difference to my patient and their family."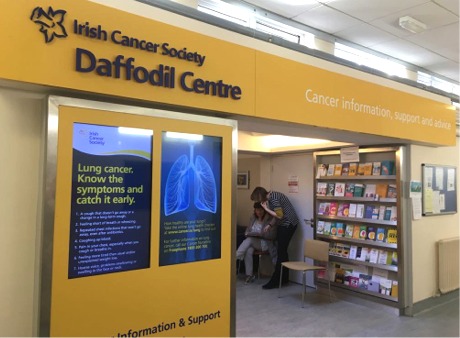 The Daffodil Centre at Letterkenny University Hospital.
Public support is crucial according to local organiser Veronica McAteer who urged people in Inishowen to show their support on Daffodil Day.
"People of Inishowen have always been generous in their support of Daffodil Day but with more people being diagnosed with cancer we need to ramp up our efforts to ensure they get the help they need. Not only will donations fund services like Night Nursing, but also cancer research to help more people survive cancer. Please help us by volunteering to sell daffodils or simply by buying a daffodil on March 22nd," Veronica said.
To get involved in Daffodil Day locally contact Ena on 087 7381055 or for more information visit www.cancer.ie .