Inishowen children urged to be creative

29.05.18
CHILDREN and young people across Donegal are being urged to fire up their imaginations and take part in one of the 30 free Cruinniú na nÓg events that will take place around the county on Saturday, 15th June 2019.
Now in its second year, Cruinniú na nÓg celebrates and encourages participation by children and young people in creative activities in their local communities. It will be led by the local Creative Donegal Culture and Creativity Team with huge support from local artists, arts organisations, creative practitioners and community festivals.
Activities include everything from hands on art to nature, with a strong emphasis on participation and are specially designed to spark an interest and encourage the inner creative in children to try something new or fulfil a secret ambition!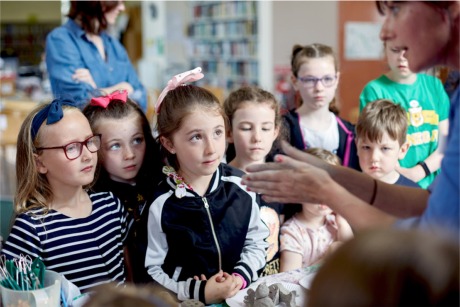 Young Cruinniú participants listening carefully before letting loose their creative side during Cruinniú na nÓg 2018 at Buncrana Library.
Highlights of this year's Cruinniú na nÓg in Inishowen include:
• Become a Songwriter at The Exchange, Castle Avenue, Buncrana from 5pm - 6pm
• Seaweed Safari at Wild Strands Caife, Malin Head Community Centre from 10am - 12.30pm
Donegal County Council's Chief Executive Seamus Neely is delighted to be once again be working hand in hand with Creative Ireland and RTE to deliver such wonderful creative opportunities in Donegal saying "we believe that by investing in arts, culture, heritage and language we are investing in a healthier, more fulfilled, prosperous and successful county and Cruinniú na nÓg provides us with a great platform from which to extend this to our youngest residents and visitors."
"While booking is required for some, there are many drop-in events which adds great flexibility for those who may have something already planned for June 15th. There is such a variety of really exciting events happening across the county and we are encouraging as many families and young people as possible to come along and make a day of it."
Full event details for Cruinniú na nÓg are available at www.creativeireland.gov.ie .