Muff C25k graduate seeks new challenge
22.08.19
BOLT Running Club Couch to 5k graduate, Angela Hegarty, is encouraging local fledgling runners to consider the relay option at this year's Waterside Half Marathon.
The Muff mother of two was one of a number of local runners who completed their first 5k at the recent 'Jog in the Bog' event and the high of that achievement has left her hungry for the next challenge.
The three person relay option at the Waterside Half Marathon on Sunday, September 1st, offers runners who don't want to complete the full 13.1 miles distance the opportunity to run a shorter distance and still enjoy the race day experience.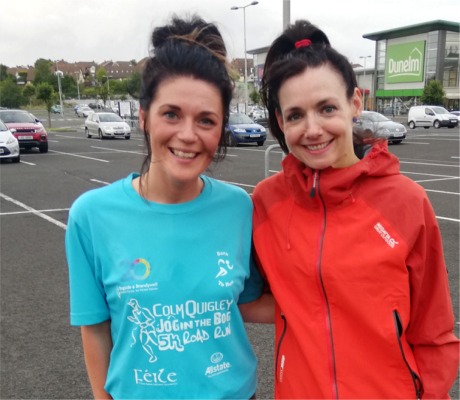 Bolt Running Club members, left to right, Angela Hegarty and Maria Shanks have signed up for the Waterside Half Marathon relay on Sunday, September 1st.
Angela will take part in the relay, which is split into a five mile and two four mile stages, with her fellow Bolt runners Maria Shanks and Louise Strain.
"I've never been sporty or belonged to a club so completing my first 5k has given me the push now to keep running and join the Bolt Club on their weekly runs," she says.
"There was talk about possibly doing a relay at the Waterside Half Marathon, so that got me thinking, yeah, maybe I could do that?"
"My aim is just to finish it and to just have fun really and enjoy the day with my fellow relay colleagues.
The relay distances of four and five miles are the perfect next milestone for anyone who has just reached the 5k milestone or who is starting out in running through Parkruns."
The Waterside Half Marathon takes place on Sunday September 1st beginning at the parade ground in Ebrington Square and finishing on the running track at the nearby St Columb's Park.
Registration for the Waterside Half Marathon has been extended and is open now at www.derrystrabane.com/whm .