People urged to join Inishowen Clean Up
03.04.19
PEOPLE from all over Inishowen are set to be out and about this weekend taking part in community clean-ups as part of the 2019 Big Donegal Clean Up.
Groups in Buncrana, Carrowmenagh, Dunree, Moville, Greencastle, Culdaff, Manorcunningham, Newtowncunningham, Killea and Carrigans will be out this Saturday (6 April) as part of the Inishowen Community Clean Up initiative. The St. Johnston Community Clean up will also take place for a week from Monday 8th April to Saturday 13th April. Last weekend clean-ups took place in Redcastle and Manorcunningham.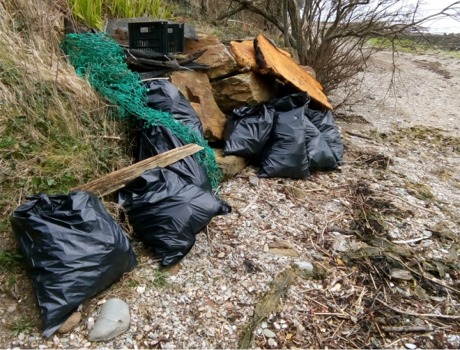 Rubbish collected during a recent clean up on Clar Beach by Redcastle Tidy Towns Committee.
Cathaoirleach Cllr. Seamus O'Domhnaill is delighted with the response to this year's Big Donegal Clean-up saying "it never ceases to amaze me the sense of community we have here in Donegal and this response simply reinforces this for me. There is no way that the council would have the resources to keep every road and public area in the county clean, and that's why the work that these people do is so important.
These people are our unsung heroes and are the backbone of our communities and they should be highly commended for all the work they do. While this work is very important from a tourism perspective, it is about more than that. It is about caring for our own environment and about the pride we have in our own communities."
Anyone who would like to take part in any of the clean ups can find more information on times and meeting points at www.bit.ly/DonegalCleanUp .
There is still plenty of time to take part in the Inishowen Community Clean Up by organising a clean-up in your own area. All you have to do is call the council on 074 91 53900 or call into to any council office to register. Donegal County Council provides bags, pickers and high vis vests and then collects the rubbish from designated points at agreed times.