Bikes for Africa appeal in Inishowen
03.10.19
PEOPLE in Inishowen are being encouraged to donate their old bicycles to School Bikes for Africa.
Letterkenny Rotary Club has once again joined forces with Donegal County Council and Bryson Recycling for this years School Bikes for Africa campaign as part of the national Reuse Month.
Once again households in Inishowen are being asked to donate old and unused bicycles that can be refurbished for use by school children in Africa giving them the chance of a better life.
"We are once again appealing for donations of old or unused bicycles which can be handed in at any one of the Councils Recycling Centres including Carndonagh and Letterkenny" says Padraig McGinty, President of Letterkenny Rotary Club.
"This year, bikes can also be donated to any of the Men's Sheds projects throughout Inishowen and we are also accepting childrens bikes as the project now benefits younger students from the age of four".
Padraig McGinty believes that the inclusion of bikes for younger children will open up so many more opportunities, as children in Africa, especially those in rural areas, often have a very long way to travel to get to school, perhaps even walking up to 20km a day, and often in searing temperatures too.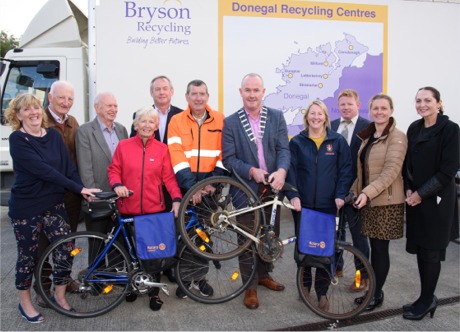 Launching this year's Rotary Club School Bikes for Africa campaign as part of Reuse Month in association with Donegal County Council and Bryson Recycling are Connie Gallagher, Bryson Recycling, Padraig MacGinty, Rotary President, Susanne Bogan, Donegal County Council with Rotary Club member Ken Sharpe, Paddy Delap, Ena Barrett, Hazel Russell, Sharon Black, Boyd Robinson and Patricia Patton.
To date, approximately 400 bikes have been donated from Donegal alone. Suzanne Bogan, Waste Awareness Officer with the Council believes that "this is a great initiative and one that clearly demonstrates what we are trying to achieve during national reuse month. Donating, refurbishing and repairing items are all forms of reuse and offer people a chance to save or make money, get creative, learn a new skill and be environmentally conscious".
For recycling centre opening times and more on reuse month visit www.brysonrecycling.org and www.mywaste.ie .