More Inishowen clean ups this weekend
12.04.19
THE Big Donegal Clean Up continues this weekend across Inishowen with community clean ups planned for St. Johnston, Malin Head, Drumfries, Culdaff and Bridgend.
Pearse McCrory, Litter Warden for the Inishowen Municipal District, is encouraging people to come along and join in the clean up saying "it is a great community event and it's a way of getting to know people in your area. Last weekend we had the Inishowen Community Clean up and it was great to see so many people out and about lending a helping hand. It really makes such a difference to have an extra pair of hands doing this type of work and you never know you might even enjoy it."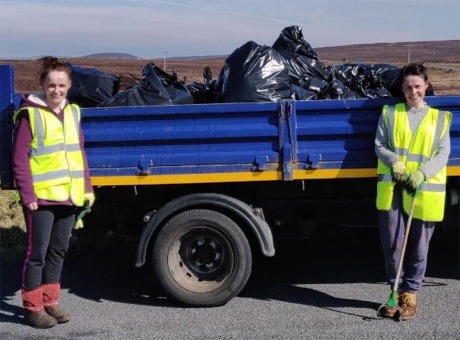 Catherina and Michelle Doherty who participated in the Inishowen Community Clean up at Mindoran, Clonmany on Saturday the 6th of April 2019.
There is still plenty of time to take part in the Big Donegal Clean Up by organising a clean up in your own area. All you have to do is call the council on 074 91 53900 or call into to any council office to register. Donegal County Council provides bags, pickers and high vis vests and then collects the rubbish from designated points at agreed times.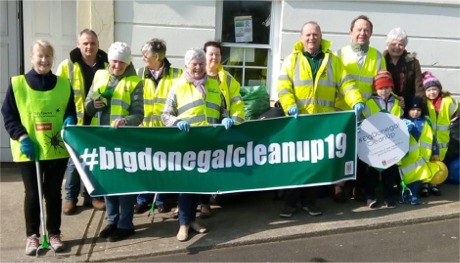 Moville / Greencastle volunteers who joined the Inishowen Community Clean up last weekend.
This weekend, Saturday 13th and Sunday 14th April, clean ups will take place in Inishowen as follows:

• Big Village Clean Up by residents, businesses and community this Saturday in St Johnston. The centre will be open from 9am – 1pm with tea and coffee for all volunteers. Litter pickers, high viz jackets, black bags available in the resource centre anytime this week for all the ongoing clean ups that's happening all week. A skip will be in place at the centre supplied by Donegal County Council.

• Malin Head Youth Club are having a clean up on Saturday, meeting at the Malin Head Community Centre at 10am. There are bags, pickers etc available in the centre from now on if anyone wants to have a clean up of their area before then.

• Drumfries Community Clean Up on Saturday, meeting at Slieve Sneacht Centre at 11am.

• Culdaff Tidy Town clean up, meeting at the Wee Hall in Culdaff at 10.30am, refreshments in the hall after.

• Drumadooey / Bridgend Residents clean up, meeting where the 19th hole used to be on Saturday from 10.00am – 12.00pm
Anyone who would like to take part in any of the clean ups mentioned can find more information on times and meeting points here .