Donegal young people shine at community awards
27.04.18
NINE community-spirited youth groups from across Donegal have exhibited their projects at the Aldi Foróige Youth Citizenship Awards.
More than 2,000 young people, representing every county in Ireland, showcased their community action projects that were focused on "improving local communities in areas such as equality, homelessness, inclusion, community events, mental health, culture and much more".
Foróige CEO Seán Campbell praised the young participants, adding: "The Aldi Foróige Youth Citizenship Awards programme is designed to empower young people across Ireland to use their skills and talents to make a positive contribution to their local community."
The nine Donegal groups included Carndonagh Foróige Club who got involved in tree planting after many families in the area were left homeless during the big flood last summer.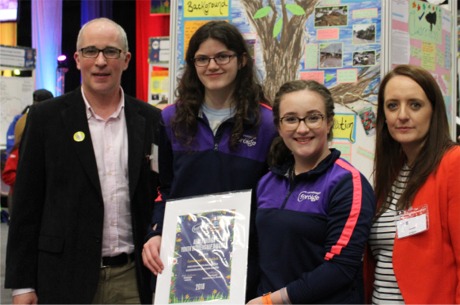 Martin Donohue, Foróige and Susan McDermott, Aldi Ireland present Carndonagh Foróige Club, Donegal, with a Certificate of Achievement at the Aldi Foróige Youth Citizenship Awards. To view more photos click here .
Buncrana Foróige Club Seniors held an awareness evening to promote diversity and equality regarding other cultures around the world. Their junior colleagues researched issues related to religious equality, racism, gender neutral fashion and marriage equality.
Other Donegal participants included Oliver Yeoman, Noelle Kilpatrick and Milaoise Armstrong; The DECK Youth Project and CE Óige Foróige Club, Donegal. The latter group explored the impact Brexit will have on Irish farmers and organised visits to Inishowen farms and spoke to farmers about how they'll be effected. They also published their results in a leaflet and sent it to interested stakeholders and politicians.