Donegal needs more female entrepreneurs

22.10.18
FEMALE led businesses already in Donegal need to be encouraged to act locally but to grow globally - that was one of the key messages from the National Women in Enterprise event held in Burt last week.
The event – one of 16 held across the country – heard Brenda Hegarty, Assistant Head of Enterprise in Donegal, explain that the number of women in enterprise in Ireland and in Donegal is under represented.
"The gap is narrowing, but it is still too high. Men are twice as likely to start a business than females. We need to encourage more female led businesses to act locally and grow globally. This is particularly important given our peripheral location and the recent uncertainty over Brexit. Thinking globally and acting locally is the key to the success of the local economy."
She also explained that in Donegal only around 16% of the Local Enterprise Office's client base is from female-led businesses, adding that 28% of male entrepreneurs as opposed to just 9% of female entrepreneurs expect to have 10 or more employees in 5 years.
"The figures are stark, but events like the National Women in Enterprise event will help shine a light on the issue, address the gap and hopefully inspire more females to start and grow a business in Donegal," she said.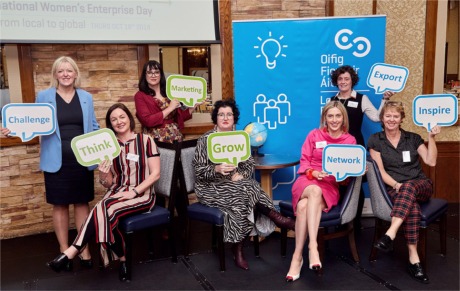 Pictured at the National Women in Enterprise event in An Grianan Hotel Burt last week were from left - Brenda Hegarty, Assistant Head of Enterprise in Donegal, Larissa Feeney of Accountantonline.ie; Grace Korbel, Local Enterprise Office; Maire Morris, fashion consultant; Heidi Higgins, fashion designer; Eileen Kelly, Enterprise Europe Network and Jenny Holloway of Fashion Capital.
Thursday's event held in An Grianan Hotel in Burt also heard from a panel of speakers including global expert in the business of luxury fashion, Máire Morris; Larissa Feeney, founder and CEO of Accountantonline.ie; award-winning designer Heidi Higgins and international fashion industry expert, Jenny Holloway of Fashion Capital in London.
In her address, Larissa Feeney of Accountantonline.ie urged those in attendance to always treat their business as a business from the very start.
"If you are just starting out there are things you need to consider, like whether you should be a sole trader, a partnership or a Limited Company, but you also need to treat your business as a business from the very outset.
Write down your goal and then work towards your goal, that will mean the decisions you make in your business will align towards that goal," she said.
Maire Morris insisted there was never a better time than now to be a small, independent business.
"There are still too few women in business, but there are opportunities for women to resonate with consumers – so many of whom are women. With every change comes opportunity and it is much easier now than ever for small brands to get to global markets."
Brenda Hegarty reminded those in attendance that applications for the Donegal Business Awards are currently open and she added that businesses should also make sure they are aware of the full range of supports and services on offer from the Local Enterprise Office.
Details of the Donegal Business Award contest and details of supports and services available from the LEO are available from www.localenterprise.ie .