Donegal man scoops €52k on Winning Streak
21.11.18
A DONEGAL man went on a Winning Streak last Saturday and scooped a whopping €52,000 on the RTÉ One TV game show.
Christopher Chambers from Letterkenny got his Winning Streak appearance off to a flier as he won €40,000 on his first game, Patience. All in all, Christopher won a total of €52,000 on the show. The day before he celebrated the first anniversary of his wedding to Michelle so it was a weekend to remember for them both.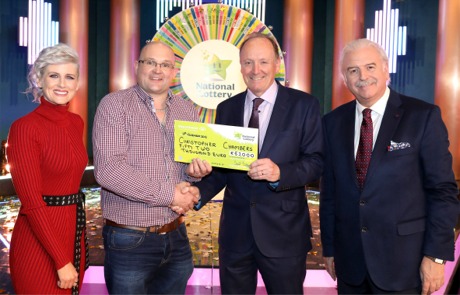 Pictured left to right: Sinead Kennedy Winning Streak game show co-host; Christopher Chambers, Declan Harrington, Head of Finance at the National Lottery and Marty Whelan.
Christopher has worked for Aurivo (Donegal Creameries) for the past five years and was supported in the RTÉ studio by his daughter Stacey (9), his parents Margaret and John, his two brothers Andrea and Barry and his two sisters Margo and Mary.
He has no real plans for his winnings yet but he will be in touch with Santa to make sure that his daughter Stacey has an extra special Christmas and birthday as she turns ten on Christmas Eve.