Three the magic number at Waterside Half Marathon

04.09.18
THE Waterside Half Marathon (WHM) recorded familiar victors on Sunday as Strabaneís Ann Marie McGlynn and Kenyan Freddie Sittuk broke through the winnerís tape at St Columbís Park running track to take the senior female and male honours respectively.
It was a third WHM win for both runners at the event which attracted a record registration of over 2,000 runners and had the added prestige this year of hosting the Ulster Half Marathon Championships.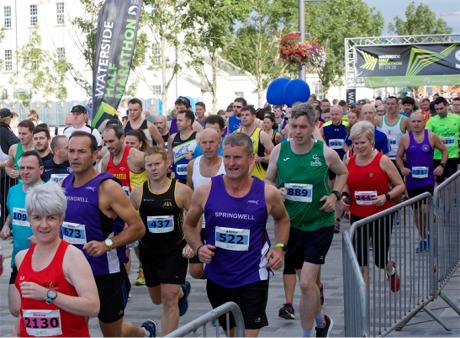 Runners get of to a good start in the WHM at Ebrington Square in Derry.
The womenís Ulster title went to McGlynn who also claimed the course record in an outstanding time of 1.17.01. North Belfast Harriers' Andrew Annett, who finished just one second behind Freddie Sittuk, claimed the Ulster menís honours.
Derry's James Divin took the wheelchair title in a tight battle with Inishowen man Karol Doherty while Foyle Valley's Scott Rankin was the first local runner home as he finished third in the senior menís section.
Ciara Toner and Gemma McDonald took the other podium positions in the womenís race.
Mayor of Derry City and Strabane District Council, Councillor John Boyle, was at the finish line to greet the runners as they finished where he congratulated all the runners on completing the 13.1 mile course.
"Well done to the thousands of athletes who took part in the Waterside Half Marathon and the Everybody Active Junior Games event that ran alongside it on Sunday morning," he said.
To view more photos of the event click here .