IT is now possible for motorists to check out traffic at two of Letterkenny's busiest junctions on the Donegal County Council website with live feeds from new state of the art traffic cams strategically located at the Polestar Roundabout and at Station Roundabout.
These live feeds are available at www.donegalcoco.ie .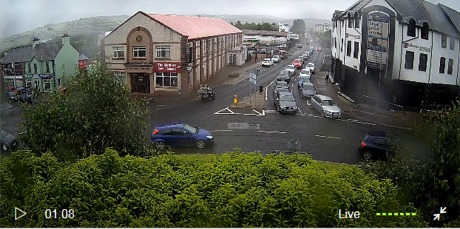 To view the new live traffic cams in Letterkenny Click Here .
They have been introduced as an aid for motorists so they can plan their journeys in and around Letterkenny.
Speaking this week, Donal Walker, Senior Executive Engineer with Donegal County Council said "the Council is delighted to be in a position to bring this additional offering to road users in Letterkenny".
"You can simply visit Donegalcoco.ie and click on Parking Section and select the Live Traffic Cams button. We have four cameras at different locations at each roundabout and this means that the road user can get a good view of the traffic levels approaching the roundabout from different directions".
Head of Information Systems with Donegal County Council Brian Boyle explains that this is all about giving motorists and other road users the best information possible to allow them to make good decisions about their journeys saying "we are always looking at new and innovative ways of assisting road users in making good informed driving decisions and this is another option that is now available on our website."