€2.4m approved for maritime tourism project
05.11.18
DONEGAL County Council has secured €2.4 million for a new historical maritime tourism project.
The Interreg Atlantic Area Monitoring Committee announced that they have approved 27 new projects. Among those new projects, TIDES (or Atlantic Network for Developing Historical Maritime Tourism) was allocated a budget of €2.4 million to develop new types of historical maritime tourist packages, using digital transformation technologies to link cultural attractions on Europe's Atlantic.
Donegal County Councillor and Vice Chairperson of the ERNACT EEIG Board of Management, Rena Donaghey, says: "this will help us to utilise Donegal's excellent maritime history and heritage, exemplified by the dedicated museums at Dunree, Greencastle and Killybegs, to create new visitor attractions that use digital technologies such virtual reality".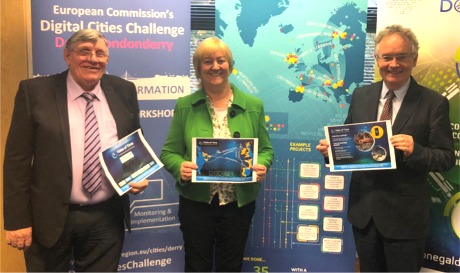 Pictured (L-R): Councillor Hugh Hastings (Derry City & Strabane District), Councillor Rena Donaghey (Donegal County Council), Colm Mc Colgan (ERNACT General Manager).
Commencing in January 2019, ERNACT will lead 7 partners from Ireland, United Kingdom, France, Spain and Portugal in this 3-year project to create sustainable and authentic tourism offerings, based on their shared maritime culture. The project will help address regional challenges in the fields of innovation and competitiveness, resource efficiency, territorial risks and biodiversity.
To learn more about the TIDES project, please visit www.ernact.eu or contact info@ernact.eu .