Debate winners to represent Donegal in finals
14.11.18
THE regional final of the Europe Direct Information Centre (EDIC) annual soapbox competition was held in the Central Library, Letterkenny on November 8th.
The theme of this year's debate was "European elections: Every Vote Counts". There were seven contestants on the night and each gave a speech for or against the motion.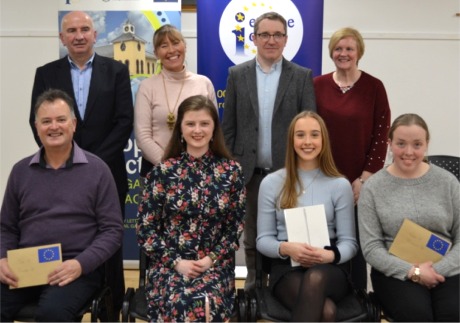 Europe Direct Information Centre soapbox competition judges and winners.
The evening was expertly hosted by veteran Donegal broadcaster Charlie Collins and the speeches were marked by a judging panel of Rosemary McClafferty of Donegal County Council, Deirdre Hines local author and poet and Rory Gallagher, manager of the EDIC.
The winners in each category received an Ipad as a prize sponsored by the European Commission. The winner in the under 18 section was Lauren McMahon and the winner in the over 18 section was Laura Diver.
The two winners will both go forward to represent Donegal at the national finals taking place in the Royal College of Physicians in Dublin on November 27th.