Join the Sleep Out with Simon
15.08.18
THE annual Sleep Out in aid of the local homeless charity North West Simon Community will take place on Friday, 5th October, in Letterkenny. This event is part of Simon Week which is an awareness campaign taking place nationally from Monday 1st to Sunday 7th October 2018.
While rough sleeping represents the severest form of homelessness, the majority of people who are homeless in Donegal are not immediately identifiable as homeless. They are living in emergency or temporary accommodation, on social housing lists or waiting in vain for affordable private rental accommodation to become available.
The good news is that North West Simon Community prevented 177 families and individuals from becoming homeless in 2017 and need to continue to provide vital services in order to prevent homelessness throughout Donegal.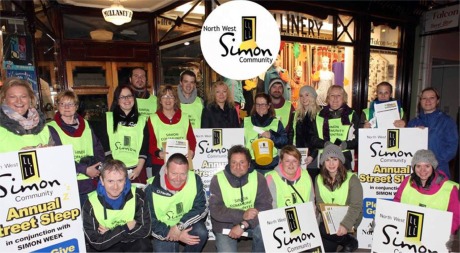 The annual Sleep Out is taking place in Letterkenny on Friday, 5th October, 2018.
There are 9,846 people homeless in Ireland at present, that's an increase of 31% on last year. There are 3,826 children in emergency accommodation with their families. This figure is frightening and the problem is not just an urban issue, it affects everyone nationally.
The annual Sleep Out is taking place in Letterkenny on Friday, 5th October and Simon are urging businesses, entrepreneurs and individuals from all walks of life to sign up today.
If interested, please contact Collette on 087 0552478 or email collette@northwestsimon.ie . You must be over 18 years to take part in the Sleep Out. Each participate will receive a certificate and go home with the satisfaction that they have helped make a difference to their community.